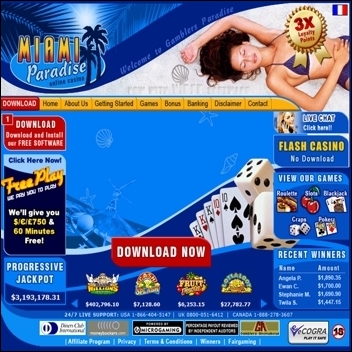 The $750 free & 60 minutes to play promotion has us more excited than a day at the beach, and can't wait to see where this promotion will take us
(PRWEB) April 18, 2007
With the Internet casino industry being quite dormant lately and the constraints set by the US market, Miami Paradise Casino is pulling out all the stops, and are confident that the $750 free $ 60 minutes to play promotion will surpass all the attempts of other internet casinos. Golden Riviera Group, the holding company of Miami Paradise Casino, launched the free play promotion with great expectations, which will provide casino players with the chance to play with $750 free for 60 minutes -- and keep what they win. "This time we're paying players to have all the fun," says the management of Miami Paradise Casino.
The $750 & 60 Minutes free play promotion will be available on the download version of the casino, but will connect to the flash casino lobby once it's been installed. Well known games such as Blackjack, Reel Slots, Baccarat, Video Slots Craps, Poker and Roulette will all be accessible in the lobby.
Ever since the US market showed signs of constrictions, Miami Paradise Casino has been turning their focus on the rest of the world. The enthusiastic marketing team of Miami paradise is looking to market the $750 free & 60 minutes to play promotion to players and affiliates in European Countries, such as Turkey, the Netherlands, Germany, France, Spain, UK and Japan. With their confidence in the social and economical growth of the casino, Miami Paradise has been working continuously to provide players with a multitude of languages, such as Dutch, Spanish, German, French and Turkish as well as a host of different games every month to keep entertainment levels at an all time high.
Through all the hard work and dedication, the Miami Paradise Casino staff has adopted an optimistic attitude and is very excited to grow the promotion in specific marketing segments. "The $750 free & 60 minutes to play promotion has us more excited than a day at the beach, and can't wait to see where this promotion will take us," says casino management.
For more information regarding the $750 free & 60 minutes to play promotion, visit Miami Paradise Casino.
Miami Paradise Casino forms part of the elegant Golden Riviera Group casinos. The casino group has been around since the year 2000 and has solidly secured a place in the ever changing online industry. The group owns some of the most prestigious casinos in the online environment, including Slots Royale Casino, RiverNile Casino, Golden Riviera Casino and also Golden Riviera Poker.
Along with the golden [star] network, the group's affiliate program, which provides affiliates with rewarding business opportunities with little or no investment, the group is positive that the various marketing segments they plan on incorporating in their current marketing strategy will benefit from the $750 free & 60 minutes to play promotion.
External Links
1. casino
2. casino online
###