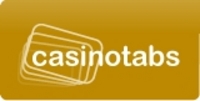 We are very happy with the clean redesign, we offer unique expert gaming information quickly and our visitor numbers are already increasing since going live with this new look this month
London, UK (PRWEB) February 27, 2008
The Internet's leading online casino database, Casinotabs.com reveals a clean new look, offering more online casino information, French and Spanish translation, simpler navigation and unique details on over 100 hundred reputable online casinos, their operations, money management and US/Non-US playable online casinos.
The new look follows on from its sister site's Oggs.com successful rebrand in the autumn of 2007. Online casino reviews website Oggs.com experienced a marked increase in traffic after its redesign and enabled more users to learn the finer points of what makes the 'Best Casinos'. The lessons learned on that site have been transferred to Casinotabs.com, taking the huge amount of casino and operator data and reconfiguring it into easy to view lists and speeding the information process to the benefit of the user.
Casinotabs.com has been busy adding more online casinos to its database and intends to continue this information gathering, branching out into new game and gaming industry areas in the future.
The redesign incorporates a whole new look, new colours and some new sections including Featured Casino, Video and a downloadable Casino Toolbar. The casino toolbar is offered as a quick and easy free download allowing users to search from their browser casino data, receive latest news, promotional offers and new casino details. Updates are automatically delivered regularly and silently to the user's PC via the browser.
The updated video shorts offer snapshots by professionals on various gambling topics and it is a section that will become a great library of information, content and entertainment in its own right as it grows.
For the more serious online casino player Casinotabs.com offers in-depth information about the various operators and especially money management areas like Process Weekend Cashouts, Reverse Pending Payments, Flush Cashouts on Request, Instant Payments and other more detailed news on Win Reload Bonuses and Multiplayer Games. It covers US, Non-US, UK, EU, Asian online casinos and their operators and lists those that are the best in each category.
Online casinos accepting US players have decreased in the past 18 months due to the US Bill in October 2006, however Casinotabs.com covers all the main casinos that do accept US players, either fully or in the states that allow online gambling and updates these regularly in order to keep players informed and offering them the best online casino, poker and slots sites to play at.
The inclusion of a full translated service in Spanish and French after a successful test period is just another service Casinotabs.com is offering its users. Traffic to the previous test areas was encouraging and might mean more languages are added in due course.
A spokesperson for Casinotabs.com said, "We are very happy with the clean redesign, we offer unique expert gaming information quickly and our visitor numbers are already increasing since going live with this new look this month"
Casinotabs.com expects further enhancements in 2008 to continue its position as the Net's leading online casino database.
###