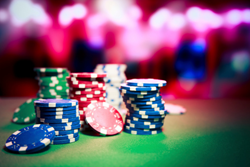 Even beyond the incredible amenities that are expected to be added, the job market and housing market will get a boost from this
Tulsa, OK (PRWEB) June 19, 2014
One of Tulsa's most popular attractions is getting a $15 to $20 million renovation that will update the aesthetic of the building as well as add additional amenities. Prudential Detrick Realty reports the entertainment hub will be transformed, which will serve the community, attract tourists and bring hundreds of jobs to the market.
The five-year-old building will get a complete makeover of its 330,000-square-foot space as a part of the entire Margaritaville expansion that is expected to take place along the Arkansas River. This massive development is projected to cost a total of $335 million and will include a nearly 500-room resort, revamped jogging trail along the river and garage expansion to make the property more accessible.
According to a 2013 report by Tulsa World, the entire River Spirit Casino will add 800 full-time employees directly and help to support an additional 1,000 jobs in the entire Tulsa region.
The first major announcement for the development is the addition of Johnny Rockets, which will be the first location in Oklahoma for the chain. The American-style burger diner will be open 24 hours a day to accommodate River Spirit patrons.
"The renovation of the River Spirit Casino is going to bring more life into the space to attract guests from all over the state," Sally Jo Dierker of Prudential Detrick Realty reports. "But even beyond the incredible amenities that are expected to be added, the job market and housing market will get a boost from this."
Officials in Tulsa are taking initiative to bring economic development and renovations to the city, thus attracting more home buyers. Currently, the city is experiencing a well-balanced market with increasing home values. Across the board, conditions are looking positive for Tulsa and, with additions like the River Spirit Casino redevelopment, these trends aren't going to slow down anytime soon.