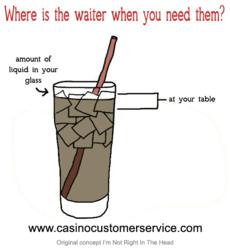 Casinos would benefit from having a Gap Analysis done to see the difference between what they actually deliver and their service standards!
Boise, Idaho (PRWEB) February 15, 2013
Casino consultants at CasinoCustomerService.com have just released a new video showing the irony of casino beverage service.
"I recently vacationed on a cruise ship and they were very proud of the fact that your server goes with you from restaurant to restaurant," says Martin R. Baird, chief executive officer of CasinoCustomerService.com and Robinson & Associates, Inc., a guest service consulting firm to the global gaming industry. "I mentioned the first night that I drink lots of water. But to my surprise, I ended up asking for more water at each restaurant even after drinking my water and that of my sons."
After seeing a graphic on this subject from imnotrightinthehead.com, Baird says he had his team create the video not only for fun but also so casino managers could share it with their employees as a service discussion tool. "When casino managers start a discussion about service, employees focus on it again," Baird says. "The video is about the simple concept that when your drink is full, the server is nearby, but when it's empty, the server is nowhere to be found. The video is funny, but it's no laughing matter when you are at a casino restaurant or slot machine waiting for a beverage."
Casino customer service training should be both fun and educational, and the video – which is less than 10 seconds – was created as a fun way to educate employees about the perception of beverage service, Baird says.
Casinos often have service standards that are not measurable, Baird notes. "For example, what is the specific standard for refilling a guest's drink?" Baird asks. "Do casino staff wait until the glass is as dry as the Sahara Desert or should it be filled once it's half empty?"
Many casinos also have a gap between the service they deliver and the service standards that they have set, Baird says. "The service delivery gap is the difference between what the casino actually delivers and what it wants to deliver," Baird explains. "If my team had conducted a Gap Analysis on my cruise-ship experience, it would have shown that when a cruise passenger says he drinks lots of water, the crew should be proactive and prepared to deliver it."
Casinos that want to be successful long term need to view guest service as their true competitive advantage over other gaming properties, Baird says, noting that ultimately service delivery is the competitive difference because all casinos have the same machines and games.
To see the video, click here.
About Robinson & Associates and CasinoCustomerService.com
Martin R. Baird is a casino consultant and chief executive officer of Robinson & Associates, Inc. For 20 years, Robinson & Associates has been dedicated to helping casinos improve their guest service so they can compete and generate future growth and profitability. A Boise, Idaho-based consulting firm to the global gaming industry, Robinson & Associates is the world leader in casino guest experience measurement, management and improvement. Recently, it announced Simply Share, a real-time customer feedback platform that makes it fast and easy for casino customers to share their experience directly with casinos instead of posting comments online at social media sites.
For more information, visit the company's Web site at http://www.casinocustomerservice.com or contact Lydia Baird, director of business development, at 208-991-2037 or lbaird(at)raresults(dot)com. Read about casino customer service improvement at Martin Baird's blog at http://www.mbaird.blog.com. Robinson & Associates is a member of the Casino Management Association and an associate member of the National Indian Gaming Association.
###