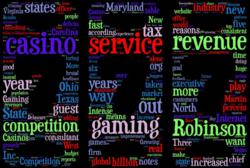 Today's competitive gaming market offers little flexibility for mistakes in one of the few areas where casinos can make themselves stand out from the pack – stellar customer service.
Boise, Idaho (PRWEB) February 19, 2013
Casinos that strive to overcome intense competition must not put themselves at a competitive disadvantage by making guest service improvement mistakes. Casino consultants CasinoCustomerService.com today announced four tips that will help gaming properties avoid those mistakes.
"Today's gaming market is growing more competitive with each passing month as new casinos open and plans are announced for even more new properties and expanded gaming opportunities," says Martin R. Baird, chief executive officer of CasinoCustomerService.com and Robinson & Associates, a guest service consulting firm to the global gaming industry. "This environment offers little flexibility for mistakes in one of the few areas where casinos can make themselves stand out from the pack – stellar customer service."
Baird outlines the following four mistakes that he says casinos must not make in improving their guest service and overall gaming experience.
Thinking Guest Satisfaction Is What Should Be Measured. Measuring guest satisfaction is a waste of time, energy and money, Baird says. "Customer satisfaction is a worthless gauge of how well a casino provides superior service," Baird notes. "Satisfaction means nothing because casino guests are fickle. A customer can be happy on Tuesday because he won some money and grumpy on Friday because the buffet wasn't up to par. So is that guest satisfied or not? There's no way to know."
Casinos should measure something far more valuable than satisfaction, Baird says. "They need to generate data on customers' willingness to recommend the casino to friends and family," Baird says. "If a casino is truly providing great service, its guests will happily tell other people about it without being asked to do so. They're like unpaid marketers for the casino. They're advocates for the casino. Advocacy is what should be measured."
Giving Improvement Lip Service. Every gaming conference has its share of casino representatives who claim that service and the gaming experience are their top priorities, but they are just blowing smoke, Baird says. "If you visit their property, you likely won't feel like service and experience are top of mind with employees and management," Baird points out. "Creating stellar service takes long-term commitment and significant resources. Just talking about it or handing it off to the training department is not enough."
Not Knowing the Gap. Casinos face the challenge of not knowing what the real "gap" is between the service they provide and the service they think they provide, Baird says. "Casinos use mystery shoppers and think that is all they need," Baird says. "Mystery shoppers provide a snap shot, but casinos need to have a service gap analysis done to know what the difference is between their service standards and what is actually being delivered."
Many customer service improvement programs fail because they don't have the people and processes in place to make them a success, Baird notes. "Doing the research is only the first step," Baird says. "The real work starts when a turnkey system is rolled out and improvement and cultural change begin to occur."
Falling Victim to Silos of Power. When everyone in the casino wants to hold onto their power, the property is not functioning as a team, Baird says. "Marketing wants its power," Baird explains. "Human resources wants to be responsible for training. Training thinks it's doing a good job. The general manager thinks he knows what's going on. Casinos will struggle to succeed as long as everyone thinks there have to be winners and losers within staff ranks. Everyone must pull together to offer great service."
Martin R. Baird is a casino consultant and chief executive officer of Robinson & Associates, Inc. For 20 years, Robinson & Associates has been dedicated to helping casinos improve their guest service so they can compete and generate future growth and profitability. A Boise, Idaho-based consulting firm to the global gaming industry, Robinson & Associates is the world leader in casino guest experience measurement, management and improvement. Recently, it announced Simply Share, a real-time customer feedback platform that makes it fast and easy for casino customers to share their experience directly with casinos instead of posting comments online at social media sites.
For more information, visit the company's Web site at http://www.casinocustomerservice.com or contact Lydia Baird, director of business development, at 208-991-2037 or lbaird(at)raresults(dot)com. Read about casino customer service improvement at Martin Baird's blog at http://www.mbaird.blog.com. Robinson & Associates is a member of the Casino Management Association and an associate member of the National Indian Gaming Association.
###