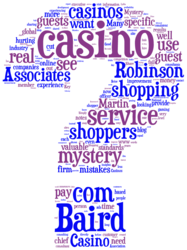 Four mystery shopping mistakes could be hurting casinos and eroding their ability to compete.
Boise, Idaho (PRWEB) February 18, 2013
Mystery shoppers provide casinos with a snapshot of what real guests experience at the property, but four mistakes could be hurting casinos, the casino consultants at CasinoCustomerService.com announced today.
"Casinos use mystery shoppers as a way to see what real guests are experiencing," says Martin R. Baird, chief executive officer of CasinoCustomerService.com and Robinson & Associates, a guest service consulting firm to the global gaming industry. "With the high level of competition in the industry, each casino is trying to see how it can provide better and more consistent service."
Baird outlines the following mistakes that he says casinos must not make when using mystery shoppers.
All Shoppers Are Not Created Equal. It's not difficult to find ads in a variety of places online that offer to hire mystery shoppers, Baird says. "Would you want someone who has answered an online ad deciding how well your casino delivers its guest service?" Baird asks. "Casinos use mystery shopper data for personnel reviews, promotions and even bonuses. But some mystery shopping companies will select almost anyone to do the shop."
How Are the Shoppers Trained? Some mystery shopping services contract with a person in the morning and have them shopping a casino by the end of the day, Baird says. "Shoppers need to be educated about what they are looking for and how they are to rate experiences," Baird points out. "Good mystery shopping companies invest time and money to train and develop the shoppers."
What Are Shoppers Shopping For? Casinos should have specific service standards that they want reviewed, Baird says. "There are now TV shows about mystery shoppers and I guarantee that the shoppers are looking for specific service problems," Baird notes. "They know what to look for before they walk through the door."
Many casino mystery shopping programs fail because they lack specific standards to measure, Baird says. "Casinos don't want shoppers just sharing opinions," Baird explains. "The real value comes when shoppers report results based on how well a casino employee delivered on specific service standards."
Price Matters. Some mystery shopping companies pay shoppers little or nothing because the company pays for shopper meals and gives them some gambling money, Baird says. "We want shoppers to know that the information they share is valuable, so we pay them." Baird says. "When a casino tries to cut costs on mystery shopping, it is only hurting itself. Understanding the service that guests actually receive is very valuable for long-term success."
Martin R. Baird is a casino consultant and chief executive officer of Robinson & Associates, Inc. For 20 years, Robinson & Associates has been dedicated to helping casinos improve their guest service so they can compete and generate future growth and profitability. A Boise, Idaho-based consulting firm to the global gaming industry, Robinson & Associates is the world leader in casino guest experience measurement, management and improvement. Recently, it announced Simply Share, a real-time customer feedback platform that makes it fast and easy for casino customers to share their experience directly with casinos instead of posting comments online at social media sites.
For more information, visit the company's Web site at http://www.casinocustomerservice.com or contact Lydia Baird, director of business development, at 208-991-2037 or lbaird(at)raresults(dot)com. Read about casino customer service improvement at Martin Baird's blog at http://www.mbaird.blog.com. Robinson & Associates is a member of the Casino Management Association and an associate member of the National Indian Gaming Association.
###