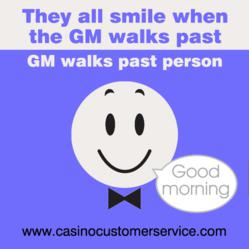 Is service really great when casino employees smile as the GM walks by? What happens when the average guest passes by?
Boise, Idaho (PRWEB) February 20, 2013
Casino consultants at CasinoCustomerService.com have just released a new video that shows casino employees are all smiles when one of the property's executives walks by. The video raises the question of what happens when the average guest passes by.
"Casino mystery shoppers see what happens when the average guest interacts with employees," says Martin R. Baird, chief executive officer of CasinoCustomerService.com and Robinson & Associates, a guest service consulting firm to the global gaming industry. "When the general manager or others from the executive team walk the casino floor, they see smiles on all the faces because employees know those are the people they work for."
Baird and his team created the video not only for fun but also so casino managers could share it with employees as a service-discussion tool. "When casino managers start a discussion about service, employees focus on it again," Baird says. "The video is about the simple concept that if everyone smiles when the boss is around, shouldn't they also smile for customers? Ultimately, casino employees work for each and every guest. By having this conversation with the staff, it encourages them to focus on the guest and reminds them that guests are the reason they are employed and that the casino is in business."
Casino mystery shopping gives gaming properties a snapshot of what guests may experience when they visit a casino, Baird says, adding that casinos should have service-delivery standards that shoppers can use to compare to the service provided.
"Many casinos have a gap between the service they deliver and the service standards they have set," Baird says. "The service delivery gap is the difference between what the casino actually delivers and what it wants to deliver.
"When we do service gap analysis for our clients, we also see a difference between what the general manager sees and what the average guest experiences."
CasinoCustomerService.com released the video as a light-hearted view of what casino mystery shoppers experience, Baird says. "The property's executive team talks about how great the service is and how all the employees smile, but the reality is that they may only smile when the GM walks by," Baird says.
To watch the video, click here.
Learn more in this San Francisco Chronicle article.
About Robinson & Associates and CasinoCustomerService.com
Martin R. Baird is a casino consultant and chief executive officer of Robinson & Associates, Inc. For 20 years, Robinson & Associates has been dedicated to helping casinos improve their guest service so they can compete and generate future growth and profitability. A Boise, Idaho-based consulting firm to the global gaming industry, Robinson & Associates is the world leader in casino guest experience measurement, management and improvement. Recently, it announced Simply Share, a real-time customer feedback platform that makes it fast and easy for casino customers to share their experience directly with casinos instead of posting comments online at social media sites.
For more information, visit the company's Web site at http://www.casinocustomerservice.com or contact Lydia Baird, director of business development, at 208-991-2037 or lbaird(at)raresults(dot)com. Read about casino customer service improvement at Martin Baird's blog at http://www.mbaird.blog.com. Robinson & Associates is a member of the Casino Management Association and an associate member of the National Indian Gaming Association.
###