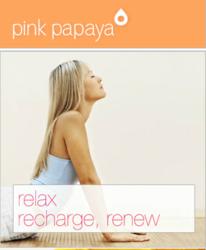 "I joined Pink Papaya because our company believes in giving women a way not only to succeed, but to pamper themselves while they do it." Amber Stockman
Casper, Wyoming (PRWEB) March 09, 2012
Pink Papaya representative Amber Stockman supports women small business professionals by becoming a 2012 sponsor for The Heart Link Women's Network in Wyoming.
The mission of Pink Papaya is to create a line of quality products women love, create a strong economic platform and a place for women to shine.
"Pink Papaya and the Heart Link Women's Network have many things in common," says Stockman. "Pink Papaya and The Heart Link Network are communities of women supporting women, and both organizations believe in the spirit of giving. I am proud to be a part of Pink Papaya and to sponsor such a woman oriented group that supports all women small business professionals."
Christa Sutton is a business and life coach who is also The Heart Link Network leader in Casper, Wyoming. Christa loves supporting women in living the dreams in their hearts.
"I believe that if a woman finds something she loves doing SO much that she would do it for free, the world will pay her well to do it," says Sutton. "I love being a leader for The Heart Link Network because I meet so many amazing women and feel I can bring something really positive into their lives. We have so many extraordinary women in business who share their products, services and hearts with one another. I am thankful for Amber's love of women and her generosity is supporting the women in our community. It is fantastic!"
The Heart Link Women's Network supports thousands of women business professionals with over 200 locations in the US, Canada and Australia. There is no upfront membership fees that can often exclude some women from attending, and this allows professional women flexibility and choice when networking. Each attendee receives three minutes to showcase the business, products and services they love. The Heart Link Women's Network was founded in 2008 by Dawn Billings, author, inventor and entrepreneur whose life goal it is to benefit the lives of women and children in all ways, always.