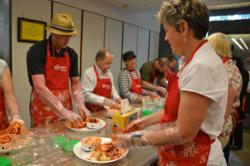 I've had an amazing summer that included mathematics teaching, training and learning on three continents
Fort Collins, Colorado (PRWEB) September 28, 2012
Cassandra Turner, an internationally recognized Singapore Math teacher, trainer and consultant, recently attended the 12th International Congress on Mathematical Education (ICME-12) held in Seoul, Korea.
Turner said, "Attending ICME-12 was an outstanding experience. ICME happens only once every four years and attracts people from across the globe, so I describe it as the Olympic Games of mathematics education. It was exciting to rub elbows with some of my math heroes and share experiences with teachers from around the world."
The International Congresses are held every four years and offer a unique opportunity for mathematics educators to discuss issues with leaders in the field from around the world. ICME showcases the current state of and trends in mathematics education research and in the practice of mathematics at all levels.
ICME-12 attracted 5,000 participants from more than 150 countries including researchers, math education teacher educators, practicing teachers, mathematicians and others interested in mathematics education.
The Congress also featured a Mathematical Carnival designed to engage local students, teachers and the public in mathematical activities.
At ICME-12, Turner participated in the topic study group,"Mathematical Knowledge for Teaching at Primary Level." This group considered what mathematical content knowledge elementary teachers need to have in order to be successful. Turner also had an opportunity to make Kimchi, Korea's national dish.
Turner, an avid traveler, spent seven weeks abroad this summer and logged more than 60,000 frequent flier miles on her math-related journeys. In addition to participating at ICME-12, Turner conducted Singapore Math teacher training for the Republic of Palau and the Association International School in Ghana.
Turner said, "I've had an amazing summer that included mathematics teaching, training and learning on three continents. It's so enriching to visit schools, meet teachers and observe different approaches to math education. I'm eager for more opportunities to visit math classrooms in other countries."
About Cassandra Turner
Cassandra Turner has been "Passionate about Singapore Math" since first encountering it in 2001. An independent math trainer and coach since 2009, Cassy has had the pleasure of introducing Singapore Math to thousands of teachers, administrators and parents in 30 U.S. states, Mexico, Canada and Ghana. More than three dozen schools have chosen Cassy to help them implement the curriculum.
Cassy currently conducts two different Singapore Math Workshops for the Bureau of Education & Research (BER) and hosts Singapore Math Source (http://www.SingaporeMathSource.com), a website featuring news, resources, reviews and more. Formerly a teacher--she used Primary Mathematics at several grade levels--Cassy traveled to Singapore to see the curriculum from the source in 2007 and co-authored a Singapore Math Training Manual approved by the State of California the following year. In 2012, Cassy was awarded a contract by the Republic of Palau to assist the Ministry of Education (MOE) with the implementation of the Singapore Math Curriculum.
Cassy is a devoted champion of Singapore Math who loves to work with schools and teachers to make every child in every classroom a competent and confident mathematics student.