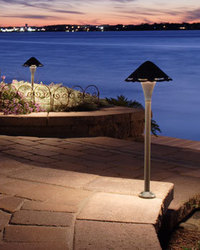 Hawthorne, NJ (Vocus) October 19, 2010
CAST Lighting, known for its rugged and reliable solid bronze landscape lights, announces its inclusion in Viking Pools' Extended Living Spaces Program. This partnership brings CAST Lighting into the several hundred one-stop dealerships that participate in the program. CAST Lighting is the only outdoor lighting company invited into the outdoor living scheme.
David Beausoleil, president and founder of CAST Lighting, is upbeat about the partnership, "Inclusion in the Extended Living Spaces Program is confirmation that our company's mission is succeeding. It has been our intention from the beginning to focus on quality, durability, and reliability. While the majority of landscape lighting manufacturers bow to economic pressure and move their production to low-cost Asian producers, we continue to produce our own products, in our own foundry, in the Americas. To be included in the Extended Living Spaces Program along with other quality-conscious manufacturers brings us to the consumers we like best - those who appreciate quality."
CAST Lighting's outdoor lights are unique in both their composition and their manufacture. The lighting fixtures are composed of solid bronze and hand-crafted using the ancient method of sand-casting. This is a time and labor consuming process that requires highly skilled workers and a foundry devoted to the task. The result, solid sand-cast bronze, is a metal that resists environmental corrosion better than aluminum, copper, and brass - the materials used by all other manufacturers.
Steve Parrott, communication and marketing director, explains CAST Lighting's approach, "Even though we are a manufacturer, our products are only part of what we offer. We recognized long ago that for CAST Lighting to be successful, many others must succeed at the same time - our distributors and their contractor customers, and the end-users (homeowners and property managers) - everyone must profit. This is why we work closely with all parties along the line, providing unparalleled training, customer support, and technical service. We can only accomplish this by focusing our efforts on our distribution partners. We will never be in the big-box stores, nor will we allow our products to be sold through online retailers - these venues offer convenience and little else."
CAST Lighting's partnership with Viking Pools follows a similar arrangement with Weathermatic, a leading supplier of irrigation equipment. The two partnerships have expanded CAST Lighting's sales base to over a thousand distribution points worldwide. The company also recently completed construction of a new South American bronze foundry that quadruples its production capacity. This growth during an economic slowdown is evidence of a company on the right track.
About CAST Lighting
CAST Lighting is a leading manufacturer of high quality low voltage landscape lighting products. Based in the USA, with production facilities in New Jersey, Pennsylvania, and Columbia; CAST Lighting produces a complete line of low voltage outdoor lighting products, including solid bronze lights, low voltage transformers, landscape lighting wire and complete lighting system accessories.
For more information, call 800-914-CAST or go to cast-lighting.com.
###