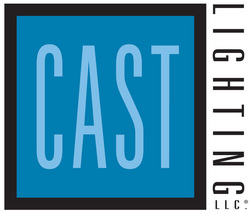 Hawthorne, NJ (Vocus) October 1, 2010
CAST Lighting, a leading manufacturer of landscape lighting products, introduces the first in a series of extremely rugged integrated LED outdoor lighting fixtures. This product, the CAST Lighting LED Engineered Wall Light (CEWL5LED1), is the first luminaire of its type with a fixture housing designed to endure the 20+ year life of the LED light source.
David Beausoleil, President of CAST Lighting, explains, "LED's are the latest rage in low voltage landscape lighting. They hold tremendous promise due to their low energy consumption and long life – some as long as 20 years. What consumers don't realize is that nearly all lighting fixtures that house LED's have a much shorter life. Energy cost savings are negated if the fixture housing deteriorates long before the LED reaches the end of its life. That's why we use solid sand-cast bronze for all our fixture housings; this material is more corrosion resistant than brass, copper, and aluminum – the materials that other manufacturers use."
Another problem with many of the existing LED landscape lights is thermal management. LED chips are very sensitive to heat. If they are subject to temperatures just a few degrees above their limits, then their lifetimes are drastically shortened. That's why many LED fixtures have fins and baffles – these are used to draw heat away from the LED board. The brighter the LED light source, the more heat is generated. Many manufacturers fail to adequately manage this heat, especially for tropical climates.
CAST Lighting addresses heat management by thermally bonding the LED board to the solid bronze housing (an excellent conductor of heat). They also under-drive the LED chips so they produce less heat. Moisture protection is provided using a proprietary water-resistant coating on the board.
Since this LED board is also replaceable, a company spokesman claims that when the LED board has reached the end of its life (after about 20 years), the fixture itself will still be in excellent condition so a new board can be inserted. No other manufacturer can make that claim.
Steve Parrott, Communication and Marketing Director, comments, "CAST Lighting earned a reputation for building the industry's most rugged and reliable landscape lighting products. That's why we did not join our competitors in the LED rush-to-market. We began our LED research and development several years ago, and continued these efforts until we were confident that our LED luminaires would live up to our high standards of durability and longevity."
About CAST Lighting
CAST Lighting is a manufacturer of rugged and reliable low-voltage landscape lighting products. The company maintains a bronze foundry in Columbia and also manufactures in the US. CAST Lighting products are distributed worldwide, and installed by thousands of designers who have completed the CAST Landscape Lighting Training. The company's founder and president, David Beausoleil, is a recognized industry expert and instructor at Rutgers University.
For more information, go to cast-lighting.com or call 800-914-2278.
###