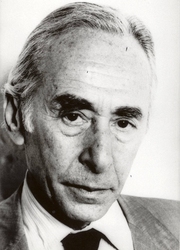 Leo and His Circle: The Life of Leo Castelli
Gainesville, GA (Vocus) September 30, 2010
A new book by the French academic, writer, historian and biographer Annie Cohen-Solal paints a detailed portrait of Leo Castelli, one of the most influential figures in the art world in the late 20th century and a man credited with helping Brenau University, a small, private institution in north Georgia, gain a foothold in that world.
Cohen-Solal's "Leo and His Circle: The Life of Leo Castelli," published recently by Alfred A. Knopf, is a cultural biography of Castelli, who was America's most influential art dealer credited with launching or expanding careers of Pop Arts icons Andy Warhol, Jasper Johns, Frank Stella, James Rosenquist, Roy Lichtenstein and Robert Rauschenberg. Samples of all their works currently are part of Brenau University's permanent art collection.
From 1991 until his death 11 years ago, Castelli also served as a member of the Board of Trustees of Brenau, which began as a women's college 132 years ago in Gainesville, located about 50 miles north of Atlanta.
"Leo persuaded (future collectors) that it was OK to watch football on Sunday night and enjoy Jasper Johns on Monday morning," Cohen-Solal said in an interview for Brenau.
According to an article by Atlanta-based arts critic Catherine Fox, Castelli also "helped Brenau build an impressive permanent art collection and enhance its reputation in the art universe he inhabited." Fox, long-time arts critic for The Atlanta Journal-Constitution, currently is chief visual arts critic for ArtsCriticATL.com.
Fox's article, commissioned by the university, is available for media use at no charge with no copyright restrictions. Click here to copy the article, or e-mail dmorrison(at)brenau(dot)edu for a version in Microsoft Word format or to obtain photography or to obtain permission to use images from the university's permanent art collection.
ABOUT BRENAU – Founded in 1878, Brenau University currently enrolls about 2,800 students in graduate, undergraduate and preparatory programs on campuses and online. The main campus of the Georgia-based liberal arts institution, which includes the Brenau Women's College, is in Gainesville with other campuses in Augusta, Kings Bay and in two metro Atlanta locations, Norcross and Fairburn. Brenau's 2011 ranking as one of the top 15-best higher education values in the Southeast by U.S. News & World Report marks the university's sixth consecutive year in that position for the magazine's America's Best Colleges guidebook. Brenau University also has been cited as one of the best colleges and universities to work for by The Chronicle of Higher Education and one of the best universities in the South by Princeton Review.
###