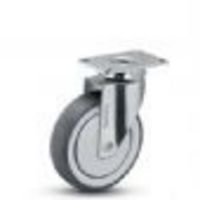 Stainless steel casters blend in and disappear within the room. They're not meant to stand out and make a statement. They are functional and now even more affordable
Chicago, IL (PRWEB) March 4, 2011
Access Casters, supplier of caster wheels, announces discounted prices on range casters and select stainless steel casters. This allows industries to move objects more easily, more efficiently, and affordably.
Moving can be expensive and labor intensive, but Access Casters can make the task easier with caster wheels. Access Casters is currently discounting a selection of range casters and stainless steel casters. As organizations are making preparations for spring maintenance, this discount will make moving appliances, equipment, and furniture more attractive.
Range caster wheels are discounted on the site to more than 50%. Restaurants and other food service organizations that need to move heavy ranges no longer have to rely on manual labor, which can cause damage to the range and the mover as well. By adding casters to the bottom of their range, janitorial staff can easily push appliances out of the way for cleaning and maintenance. Access Casters has a large selection of casters compatible with Garland, Vulcan, American, Imperial, and South Bend ranges.
"We want to help you make your work easier and more efficient. Commercial kitchens specifically have the hefty task of moving ranges, cabinets, and workstations in order to properly clean the space. Range caster wheels make it easier by reducing physical strain," says Kelly Piechocki, with Access Casters.
Stainless steel casters are also discounted. Select Hytrel Autoclave caster wheels are even more affordable with their new pricing. They're used for medical equipment, utility carts, and hospital carts, case carts, pharmaceutical equipment, food service and more. And because they are stainless steel, they are aesthetically complimentary to any room. Caster wheel sizes range between three to six inches with available options such as grip rings and locks. Carts, medical equipment, and other large pieces that are mobile and can be temporarily secured in place with locked caster wheels.
"Stainless steel casters blend in and disappear within the room. They're not meant to stand out and make a statement. They are functional and now even more affordable," continues Piechocki.
Access Casters is not limiting discounted pricing to just range casters and stainless steel options. Accesscasters.com has a large selection of casters for almost every need including leveling, light duty, stem casters, and more. To view the complete selection or to place an order visit AccessCasters.com.
About Access Casters
Access Casters provides casters wheels for every need and industry. With competitive pricing, broad product line, honesty and integrity, Access Casters provides the highest level of customer service in the industry. Centrally located in Chicago, Access Casters has strong relationships with Albion Industries, MedCasters, Darnell-Rose Caster Concepts, Hamilton, and ITW Plastiguide. These relationships allow the sales team to work closely with customers to provide what they need, when they need it.
###