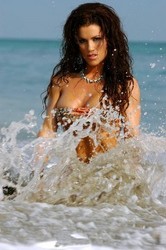 Los Angeles, CA (PRWEB) July 30, 2007
ModelMedia.com is being billed as the most anticipated Modeling Site in the Industry. ModelMedia.com has announced its official site launch. The ModelMedia Modeling Network has an infrastructure of all the right people to know. The connections that people are able to make from within ModelMedia branch out into all corners of the Modeling Industry. The quality of services, modeling industry benefits, and connections are considered to be a great tool to help launch the careers of the next top lingerie and glamour models.
ModelMedia.com has chosen this moment in history; because, in this new millennium, Models are discovered on the Internet. The #1 place for a Model or Photographer to promote themselves is on modeling websites. There are only a few reputable sites for Models to explore that will help them find Casting Calls & Auditions, Fashion work, Print work and more. Many photographers (some specializing in hot bikini model photography) are willing to help Models build their portfolio by giving them free photo shoots. So, whether ModelMedia.com's members are seeking to become swimsuit models, lingerie models, or even America's next top model, ModelMedia.com will offer them plenty of resources to find a myriad of modeling jobs.
Many beautiful young models set up model portfolios on the Internet which help casting agencies find what they are looking for. With the infrastructure of connections that the Founders of ModelMedia have in the Modeling Industry, casting agencies know where to find the hottest Models on the Internet. ModelMedia!
Many casting agencies worldwide that are registered with ModelMedia are constantly searching for a wide variety of modeling looks. Talent scouts, fashion designers and photographers are looking for young female fitness models, glamour models, swimsuit models, bikini models, blonde models, brunette models, black models, Latina models, exotic Asian swimsuit models, Russian Models, petite models and more….
Whether the models are amateurs or experienced professionals, ModelMedia intends to provide ample opportunity. It is ModelMedia.com's goal to become the one model place where all those who are serious about modeling will gravitate. Five-thousand female models have already registered in anticipation of the launch, including those whom are interested in runway modeling at fashion shows or finding beauty contests and beauty pageants to further their modeling careers. ModelMedia believes that there is beauty in everyone.
More about ModelMedia.com…
ModelMedia is a community where aspiring as well as established models, photographers, stylists, designers and musicians can gather to promote themselves, develop their careers, find new talent, job opportunities, and make money at the same time.
ModelMedia offers its Members up to $100 for each person that is referred to the site.
ModelMedia has built a system that can assist people with their careers in the Modeling Industry, enabling them to make money, build Fan bases, meet the right people, and succeed to their fullest potential.
Here's how it works
1. Members Register and fill out their profile. They can Customize their profile, too.
2. They will receive an "Invite Email" at the email address that they registered with.
3. They Forward the "Invite Email" to Models, Photographers, and anyone else they know in the industry.
The "Invite Email" has a link in the email that takes the person that was referred back to the ModelMedia.com registration page. The registration form will automatically recognize and fill in the correct ModelMedia Username as the referral person. The more people the member signs up, the more money they make.
###