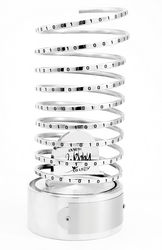 As Casting360 has grown exponentially in the short time since our launch, we knew it was time to reassess our company values and mission, as well as step up our game in the technology community
San Francisco, CA (PRWEB) February 2, 2011
Known for giving others their time in the spotlight, Casting360 is taking the stage to introduce a new mission statement that reinforces the company's core values and commitment to excellence. The hot entertainment industry start-up is stepping up its tech industry profile and is in consideration for several high profile awards this year.
Casting360 launched in September 2010 as a resource dedicated to bringing the entertainment industry together with available talent. Created with actual feedback from accomplished casting directors, filmmakers and television network professionals, the site was designed to address their unique needs. Today, the client base has grown over 1 million users, and hundreds of new casting directors and producers are using Casting360 to source talent every month.
"As Casting360 has grown exponentially in the short time since our launch, we knew it was time to reassess our company values and mission, as well as step up our game in the technology community," said Managing Partner of Casting360. "We're very proud to share our company values and mission, and thrilled to be in active consideration for industry awards including the Webbys and the WebAwards."
Casting360 Core Values:

Casting360 First: decisions for the greater good
Move at Casting360 speed
Be CEO: own outcomes
Embrace and drive improvement
Promote technology and innovation
Deliver excellence in service
Build a positive team spirit
Casting360 Mission Statement:
Casting360 succeeds by delivering outstanding performance. We believe in service beyond expectation, achieved through a constant desire to anticipate and fulfill evolving customer needs. The honesty, intelligence and commitment of our people are vital to Casting360's mission. We share pride in the company and respect the contribution or each individual at every level. Exemplary customer relationships drive Casting360's growth and prosperity. Casting360 is dedicated to pushing the limits of excellence, standing at the forefront to provide the finest products and services in the industry. Casting360 always strives to exceed its best.
In keeping with the company's new core values and mission statement, Casting360 has been submitted for nomination for a Webby in the Employment category and the Web Marketing Associations (WMA) WebAward. Previous winners include SimplyHired.com and Monster.com.
# # #