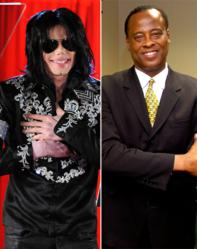 Los Angeles, CA (PRWEB) November 24, 2011
ExploreTalent.com, a premier online social-network for industry insiders, announced a new blog on their news site today, titled "Dr. Conrad Murray to be Locked Away?" Explore Talent is a professional site that connects actors, models, musicians and dancers in the United States. The company posts blogs on their site, so that members can stay up to date on celebrity news. The online community has been responsible for new collaborations and business ventures in entertainment. Explore Talent is responsible for countless models and actors getting acting jobs and modeling jobs by finding out about casting calls. Explore Talent also helps aspiring entertainment professionals further their careers with contests that showcase their profiles to members of the social media community. Furthermore, the Explore Talent site features celebrity videos, exclusive interviews with actors, actresses, and musicians, such as Joan Rivers, Usher, Akon and T-Pain.
The blog details that Dr. Conrad Murray, the now infamous personal physician to now-deceased pop star king, Michael Jackson, will be sentenced next Tuesday for involuntary manslaughter, for which he was found guilty of at the Los Angeles County courthouse (Case Number: SA073164), according to the Los Angeles Times, on November 7, 2011 (http://www.latimes.com/news/local/la-me-conrad-murray-20111108,0,4044841.story). Prosecutors and defense attorneys are each pushing for what they believe the right sentence for Dr. Murray. Prosecution is insisting that based on Dr. Murray's testimony and interviews he gave after the trial had ended, he is not remorseful for Jackson's death, and keeps insisting he did nothing wrong. They want to see Dr. Murray be locked up for the maximum sentence of four years. Defense, on the other hand, insists that Dr. Murray is, in fact, remorseful, and has suffered because of the death of the pop star. They believe that the doctor should walk away without jail time, and just probation.
Michael Jackson, one of the most famous musical performers in the world, died at the age of 50 in his home. It was quickly known that his death was due to the large amount of drugs that he had consumed, according to the Los Angeles Times, on November 7, 2011. Fingers were quickly pointed to his personal physician, Dr. Murray, who, for the price of $150,000 per month, practically lived at Jackson's Los Angeles house, and administered drugs to him.
During the trial, it became known that Jackson was an insomniac, and would beg for large doses of drugs to help him sleep, according to the Los Angeles Times, on November 7, 2011. Dr. Murray would give him very strong drugs, often anesthetics which are only administered to hospital patients during surgery.
Michael Jackson's final days were filled with drugs and insomnia, with the final large dose of drugs killing him, according to the Los Angeles Times, on November 7, 2011. The trial proved that Dr. Murray caused Jackson's death with his reckless administration of large doses of incredibly potent drugs.
Explore Talent's proprietary software and vast infrastructure is the most advanced entertainment-based technology of its kind. The site's popularity is based on the fact that there are many ways for talent to network, make friends and connect with other industry players, participate in wide variety of contests and earn prizes for being active on the site. The easy access to a pool of six million members attracts industry players who are posting every month about 50,000 new auditions and job openings which is 30 times more than any other site.
For more information on this blog, or Explore Talent, go to http://www.ExploreTalent.com.
###