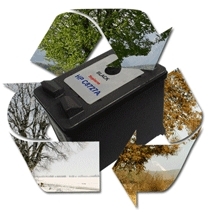 It's hard to believe that only 27% of the printer ink cartridges in the United States are refilled
New York (PRWEB) April 1, 2010
Castle Ink Cartridges, one of the nation's leading retailers of ink cartridges and laser toner, today announced the launch of its new franchise program. The program offers business owners an opportunity to capitalize on a $50 billion industry that is most recently being fueled by eco-sensitive consumers and businesses seeking environmentally friendly office supplies.
According to CEO Lauren Elward, "For the last 5 years Castle Ink Cartridges has maintained a solid web presence, but has lacked the traditional brick and mortar storefronts that so many of our customers prefer." Management determined that attempting to manage local stores across the United States would present too many logistical challenges. Several feasibility studies later, the plan to launch franchise opportunities was born.
In addition to driving more sales for Castle Ink Cartridges, Elward hopes that physical store locations around the United States will drive greater awareness that ink cartridges can be recycled and refilled. Elward notes, "It's hard to believe that only 27% of the printer ink cartridges in the United States are refilled". Unfortunately most used ink cartridges are not recycled; instead they are discarded and eventually make their way into landfills. As one of the nation's leading recyclers of ink cartridges, Castle Ink Cartridges hopes that with greater awareness comes greater sense of environmental responsibility
on the part of both consumers and businesses.
Despite the general lack of understanding and awareness by consumers that other inkjet cartridge options are available, Castle Ink Cartridges still managed to double sales, year over year. With the number of homes with functioning inkjet printers and photo printers continuing to increase, the company expects the same, if not more, growth this year. Adding to sales growth is the increasing awareness of the environmental benefits of remanufactured inkjet cartridges.
Castle Ink is one of the largest and fastest growing inkjet cartridges retailers in the industry. By opening local stores across the United States Castle Ink Cartridges is looking to drastically increase market share,
and compete directly with the likes of Cartridge World.
Unlike other inkjet cartridge franchise opportunities, Castle Ink Cartridge's program does not require a six-figure investment, and the product is affordable, with unique features such as a 100% satisfaction guarantee. Franchise owners will receive unparalleled support and incentives, including comprehensive training, assistance with business set-up and a proven online marketing system. Owners will also have 24-hour access to a complete library of online training materials, and opportunities to attend national and local sales, marketing and printer industry events.
The Castle Ink Cartridges franchise program is available in most locations. For more information, visit http://www.castleink.com or call 917-364-6232
###