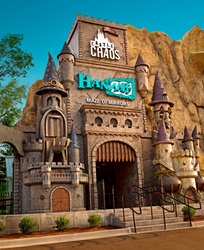 My favorite part was the bats flying out of the screen and over our heads
Branson, MO (Vocus) October 15, 2009
Haunted house aficionados, video game buffs, and Branson tourists who are ready for a thrill will find a whole new kind of entertainment beginning this Halloween season. Castle of Chaos, a fright ride and battle game, is the newest attraction in Branson, MO and marks the world premiere of the 5D experience, it was announced by owner Kuvera Attractions.
Castle of Chaos merges state-of-the-art 3D with heart-pounding motion, special effects, animatronics and gaming for the first-ever 5D interactive haunted experience in the world. Visitors enter an enormous castle to discover the fate of 1920s horror film star Carli Winepeg and her crew, who mysteriously disappeared while shooting the planned epic film Castle of Chaos. Once securely buckled into armchairs with 3D glasses on and pistols ready at their sides, guests are spun into Carli's tortured world and forced to protect themselves from its terrifying inhabitants.
"Castle of Chaos is such an engrossing experience because it is the first ride in the world to incorporate so many multi-media and interactive technologies in one attraction," says Tej Sundher, Kuvera Attractions Partner whose family also founded the world-famous Hollywood Wax Museum.
This 21st century haunted house combines the latest in 3D projection with surround sound, special effects, motion-based seats, and a shooting system that scores each member of the audience. The 24 seats are affixed to a five-ton rotating platform that has ten engines and achieves a top speed of 15 rpm. There are sequences that include total darkness, wind, water, smoke, and foul scents, among other effects. Each player racks up points, and the top five scorers are shown on the screen at the end of the ride.
Initial surveys have shown that guests absolutely love Castle of Chaos. "My favorite part was the bats flying out of the screen and over our heads," wrote 46-year-old rider Don from Florence, KS. "Oh my gosh! The anticipation made me want to bite my nails, but I couldn't because I was so busy shooting at everything," said Lizette, age 17, of Waukesha, WI.
"Nearly 50 percent of riders get right back in line to try again," says Sundher. "The competitive element appeals to all ages and is especially compelling to video game players who always want to improve their scores."
Players can earn thousands of points shooting at targets including candles, cameras, bats, bugs, rats, and zombies. Items that are more difficult to hit are worth more points, and certain objects react when struck. For example, candles flare when they are hit, one bat flies out upon contact, and a jar releases a ghost when shot.
A single admission to Castle of Chaos is $14.95 for adults and $7.95 for children (4-11). VIP Passes are available so guests can visit Castle of Chaos, the brand-new Hannah's Maze of Mirrors and the recently-renovated Hollywood Wax Museum for the discounted price of $24.95 per adult (a $41.85 value) and $14.95 per child (a $23.85 value.) Guests can re-visit Castle of Chaos as often as they would like on the same day for $5 per ride. Additional discounts are available by purchasing VIP Passes at least 24 hours in advance on-line at http://www.hollywoodwaxmuseum.com/branson/tickets.htm or Castle of Chaos only tickets at http://www.castleofchaosbranson.com.
Castle of Chaos is located in the Hollywood Entertainment Center at 3030 W. Hwy. 76 in Branson across from the Starlite Theatre. It opens at 8 a.m. 365 days a year. For additional information, call (417) 337-8700.
###