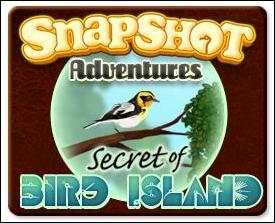 With Snapshot Adventures, our goal was to create an experience that would be fun and accessible for all types of players; from our parents, to our thirty-something peers, to our nieces and nephews. We wanted this game to be both relaxing and exciting, and to appeal to birders and non-birders alike
New York City, NY (PRWEB) April 18, 2007
Large Animal Games, a developer of computer games for "casual" gamers, has just completed work on the world's first bird photography game, entitled Snapshot Adventures: Secret of Bird Island, in which players travel the country photographing birds and unraveling a mystery. The downloadable PC game is published by iWin, Inc. A free 60-minute trial version of the game is available for download at http://www.largeanimal.com.
In Snapshot Adventures: Secret of Bird Island, players take on the role of a character tracing their grandfather's footsteps across North America, meeting with his friends, and uncovering the mystery of his disappearance. Along the way, players can:

Find and photograph 100 real bird species to add them to their Life List.
Explore 50 unique play environments, including city parks, forests, swamps, and the open ocean.
Collect special items like zoom lenses, a night vision scope, and the X-Ray attachment.
Design custom birds and release them into the wilds of the internet.
Download and photograph an unlimited number of birds designed by other players.
Track their custom birds to see how many times they've been spotted by other players.
"With Snapshot Adventures, our goal was to create an experience that would be fun and accessible for all types of players; from our parents, to our thirty-something peers, to our nieces and nephews. We wanted this game to be both relaxing and exciting, and to appeal to birders and non-birders alike," explained Wade Tinney, one of the founding partners of Large Animal and lead game designer on the project.
Mr. Tinney continued, "We also wanted user-designed content to play an important role in the Snapshot Adventures. Players can send any photograph they take in the game to their friends, create their own custom birds using a built-in bird designer, and also download and photograph birds created by other players. Our beta-testers loved these features and have already created hundreds of custom birds."
Large Animal Games formed a partnership with the Macaulay Library at the Cornell Lab of Ornithology, which has the world's largest collection of animal sounds. Macaulay provided field recordings for all of the birds in the game, as well as working with Large Animal's artists to ensure that the field markings and sizes of the birds are accurate. Greg Budney, curator at the Macaulay Library, said, "Large Animal did a great job of making sure the birds look right, sound right and appear in the correct regions and environments. All of us here at the lab are excited about this game and hope that it will introduce birding to a broader audience."
"With Snapshot Adventures, we're introducing both a novel play style and a new type of content to the casual game market. We feel lucky to have found a publisher like iWin who saw our vision and helped us make it a reality," said Josh Welber, founding partner and Technical Director at Large Animal Games.
For more information, please visit http://www.largeanimal.com/games/deluxe/snapshot-adventures
About Large Animal Games
Founded in 2001, Large Animal Games develops innovative games for the mass market. Their downloadable games, such as Rocketbowl, AlphaQUEUE, LEGO: Bricktopia, and Jackpot Match-Up: Penny's Vegas Adventure, are all available at http://www.largeanimal.com and in most places where casual games are sold.
About iWin
iWin is a premier developer, publisher and distributor of best-selling casual games. Founded in 2001, iWin creates games that are played across multiple platforms and channels. iWin's games, such as Family Feud and Jewel Quest 2, are distributed at retail locations, mobile platforms, its games portal, and other top online destinations. iWin.com offers more than 300 single-player and multiplayer casual games, spanning across all genres. For more information, please visit http://www.iwin.com.
About the Cornell Lab of Ornithology
The mission of the Cornell Lab of Ornithology is to interpret and conserve the Earth's biodiversity through research, education and citizen science focused on birds. For more information, visit http://www.birds.cornell.edu
###