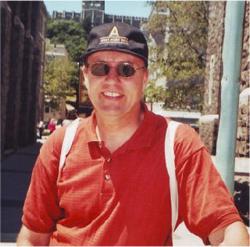 Olson does a great job of spelling out the terrible pain of disheartened believers.
Wheaton, IL (PRWEB) October 27, 2011
In his new book, The Casual Christian, Craig Olson recounts how his young son, Curtis, was sexually molested by a fellow missionary in Japan back in the early 1980's. He and his wife were never fully aware of what had happened, but their son harbored resentment for years. He erupted in violence when he reached his teens. Fueled by drug and alcohol abuse, his rage became uncontrollable and he had to be sent to a very expensive boarding school. Counseling revealed all the details of what had happened to him as a child.
Determined to bring the pedophile to justice. Mr. Olson found him at a Christian school in El Cajon, CA. He was able to obtain a confession, but the mission still refused to acknowledge any responsibility for their lack of oversight. They never reported the incident to the authorities, so the pedophile was never registered as a sex offender and was able to get another job working with children. They also instructed anyone with knowledge of the incident to keep quiet. So Mr. Olson and his family were left to deal with the financial and emotional wreckage all alone.
Although Mr. Olson had made repeated appeals for help to his Christian family and the church, only one person ever extended a helping hand. That man offered to write a letter to one of the mission board members seeking an explanation. The only one that was given was that the mission did its duty when it fired the pedophile.
The Casual Christian chronicles the odyssey of the author as he sought to find a reason for the callous indifference of the church. He found that answer in the intimate fellowship of an earlier church that was completely unfamiliar with the individualism and materialism of modern American Christianity.
ABOUT THE CASUAL CHRISTIAN WEBSITE
The author developed a tool to help churches transform their corporate style websites into information portals where people can find answers to life's issues and struggles, since few people seek answers in church anymore. According to recent research, the Internet is where people go to get their problems solved today:

Thirty-eight percent of the nation's 128 million Internet users have sent and received email with spiritual content.
Thirty-five percent have sent or received online greeting cards related to religious holidays.
Thirty-two percent have gone online to read news accounts of religious events and affairs.
Twenty-one percent have sought information about how to celebrate religious holidays.
Seventeen percent have looked for information about where they could attend religious services.
Seven percent have made or responded to online prayer requests.
Seven percent have made donations to religious organizations or charities
Twenty-seven million people unaffiliated with any church access Christian content through radio, television or books.
Yet the vast majority of church websites follow the corporate style of who we are, what we do, and where we work. Few even introduce the Founder of the Faith. Making church websites the place to go for answers is one step in the process of healing the modern church and making it relevant to a media savvy culture.
To find out how you can use your church website to connect with people in search of the answers to life's difficult questions click here
###