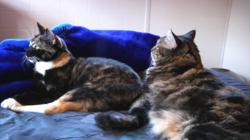 It takes time for cats to become comfortable with each other and even more time for them to become friends.
Los Angeles, CA (PRWEB) October 03, 2012
981 Media and actress Arloa Reston have released the latest "Cat Chat with Arloa" episode, which is the second in a four part series on bringing a new cat home. The episode is available at CatChat.TV. "Cat Chat with Arloa" is devoted to giving humans the necessary information to keep their cats healthy and happy and helping cats in shelters find permanent homes!
Today's episode is the second of a four part series on new cat adoption. Today's episode focuses on introducing a new cat to an existing cat and is meant for viewers who already own at least one cat but who are adopting another cat.
Many times, cats end up being returned to shelters shortly after adoption because the adoptive families already have another cat and they don't understand that the cats need to be introduced slowly. The two cats end up fighting and the adoptive family returns the new kitty because they don't think the cats are getting along well. Today's Cat Chat episode is meant to educate viewers on cat introduction steps in order to lower the number of cats being unnecessarily returned to the shelters.
Viewers are cautioned that cats are territorial creatures and don't take kindly to a new invader in their home. However, if the introductions are done gradually and gently as shown in the episode, and if the existing kitty is given enough attention that he doesn't feel threatened by the new cat, the cats will generally be tolerant of each other and over time become good friends and siblings. Arloa stresses, "It takes time for cats to become comfortable with each other and even more time for them to become friends." It is unrealistic to expect cats to become buddies on day one.
In next week's episode, Arloa talks about the occasional problem of a new cat who doesn't want to use the litter box. Many times there are reasons for this that can be addressed easily and another cat being returned to the shelter unnecessarily can be avoided.
This week on CatChat.TV, viewers will also be introduced to Nykki and Nala, two sweet, affectionate sisters who have suddenly found themselves homeless after being cared for by a loving family for eight years. They are available for adoption through Cat Connection, a cat rescue group in Sherman Oaks, California.
"Cat Chat with Arloa" is an informative yet entertaining series focused on cat health and helping homeless cats fine permanent homes. New episodes are available every Wednesday morning at CatChat.TV.
About Arloa Reston:
Arloa has been a professional actress for over 15 years in film, television and theatre. Her credits include Saurian (sci-fi channel), Another World, Days of Our Lives, Desperate Housewives, Ugly Betty, Joey, The Strange Case of Dr. Jekyll and Mr. Hyde and the upcoming feature, The Collection, among others. She has been owned by cats her entire life and volunteers with Cat Connection, a no-kill cat rescue in Sherman Oaks, California.
About 981 Media:
981 Media serves companies who want the very best marketing tools around and specializes in using multiple forms of media to promote businesses. As a Los Angeles website design company, they offer innovative websites, corporate video production, corporate photography, mobile apps, and much more. They chose their name for its ability to represent what they give to their clients. The numbers 9, 8, and 1 mean completion, fulfillment, abundance, power, creativity, and confidence. 9 is also the square root of 81, and together they symbolize synergy and maximized outcomes. To learn more, give them a call at 877-981-6334 or get in touch at http://www.981media.com