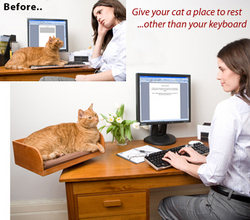 The Kitt-In Box™ is such a great product and it makes the perfect holiday gift for your cat of small dog
New York, NY (Vocus) December 16, 2009
On Monday, December 14, 2009, The Refined Feline® launched its first-ever television ad campaign for the Kitt-In Box™. Running in two key The Refined Feline® markets, Austin, TX and New York City, the television ad for the Kitt-In Box™ features the product's innovative attributes, along with a highly desirable price: Purchase two to get the first for $29.99, and the second for only $14.99*.
The Kitt-In Box™ is a award-winning, patent-pending design which gives cats a place to rest on a desktop rather than in the way on computer keyboards, a common frustration of cat owners.
"The Kitt-In Box™ is such a great product and it makes the perfect holiday gift for your cat of small dog", says Josh Feinkind, owner of The Refined Feline®. "I wanted to offer this innovative cat bed product at a great holiday price so that cats could have their own place to rest on the desk."
On making his foray into television, Feinkind shares, "it was a fun project, from the storyboarding to trying to get all the key messaging into just 30-seconds."
There are many skeptics as to the merits of television advertising. Nonetheless, it remains the best way to build brand equity and unaided brand awareness, while reaching a significantly larger audience than in alternative channels. It is also an effective to way to quickly communicate revolutionary design attributes, such as those of the Kitt-In Box™.
Click here to watch the Kitt-In Box™ commercial.
A revolutionary design-
The Kitt-In Box™ is constructed of solid pine and can adjust to multiple positions and angle. Further, it is available in multiple finishes to suit consumers' tastes. Easy to set-up, and requiring no hardware, it simply clamps securely to the side of any desk top. The design supports up to 20lbs, making it a perfect gift for cats or even small dogs, this holiday season.
Cats are drawn to the soft cushions and high wall, which are ideal for nesting and napping. The foam cushions are machine washable, and the felt padding prevents damage to the desk. It's no wonder that this revolutionary cat furniture design has already won the Cat Fancy Editor's Choice Award and the Pet Product Editor's Choice Award!
Editors aren't the only ones who recognize the merits of the Kitt-In Box™. Cat-lovers who have already purchased it tell us:
"I love it!... 7 out of 7." - Matt C. of California.
"Kitt-In Box is a 7 out of 7 rating!! It is beautifully constructed and a pleasure to look at. Both Nicholas and Zoe [cat names] love sitting or sleeping in it and being a part of all office work that goes on here!"

"It has become one of her favorite sleeping places, even when I'm not working."

Brooke H. of Durham North Carolina
Feed 500 Felines Holiday Drive-
On November 25th, The Refined Feline launched its holiday promotion: Feed 500 Felines Holiday Drive. The program objective is to feed as many as 500 shelter cats for 30 days, with a donation to 10 shelters to feed their furry guests as they wait for adoption.
Feed 500 Felines is a fun and easy program, which raises funds, based upon the product purchased. For example, if a Lotus Cat Tower is purchased, the company will allocate enough funds to feed 30 shelter cats for a day. If a Refined Cat Litter Box is purchased, The Refined Feline will allocate funds to feed 10 cats for a day.
There are twelve products eligible for the program, which can be found at TheRefinedFeline.com. Purchasing the Kitt-In Box™ qualifies to feed 2 shelter cats for a day.
The ultimate objective is to raise enough funds to feed a total of 500 hungry shelter cats for 30 days. Says Feinkind, "since we launched this program two weeks ago, we are a little short of our goal of 500. So far, there has been enough participation to feed 150 felines. I am hopeful that the Kitt-In Box television ad and promotion will boost our numbers to help us reach our goal."
*Limit up to 5 per customer at promotional $14.99. Plus S&H
About The Refined Feline®-
It all started with a cat named Kerpal. Living in a small apartment in Englewood, NJ , 5 miles away from NYC, we were frustrated with current cat products on the market. The "cat tree" designs were unnecessarily awkward and very unattractive. The dilemma presented itself: how can Kerpal's need to climb and scratch co-exist with our need for a nice looking home. The solution: design cat furniture with both the cat and the cat owner needs in mind. Today, The Refined Feline® continues to create products that are affordable, easy to maintain, and fun for cats, in addition to being customizable to easily blend into any home's decor. For more information, visit http://www.TheRefinedFeline.com.
# # #