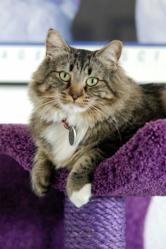 The Ribbon Cat Tree in purple is fantastic in my purple office and the cats love hanging out and playing on it. CatsPlay is the only place I have found that does great cat furniture that is high quality and fits within anyone's décor and color scheme.
(PRWEB) October 29, 2012
CatsPlay.com has re-launched a new and improved cat furniture superstore, offering an unrivaled selection of cat trees, kitty gyms, cat condos, cat scratching posts, and more. The world's 86.4 million cat owners no longer need be restrained by the limited selections of cat furniture colors and styles available in traditional brick and mortar retail stores. CatsPlay offers an almost endless array of cat furniture styles, allowing consumers to 'shop by size' in order to best meet their available space, or 'by style' to find selections that will best coordinate to the design style of their own home – whether modern, traditional, or rustic.
Consumers of today are increasingly aware of the importance of providing feline pets a place to be 'up high' and to perch and play, in part by the recent popularity of television shows featuring cat experts, who provide advice and guidance on how to create environments most attuned to our cats' well-being. Using CatsPlay.com, cat owners can not only provide amazing playing and climbing spaces for their cats, but they can 'customize' these cat furniture structures to match their home décor and style, specifying carpet colors, size, features, and design style – all at affordable prices.
In addition to hundreds of cat trees, condos and gyms, CatsPlay allows consumers new, creative options for integrating cat friendly features into their homes. Cat wall climbing systems are one of the latest trends in creating cat-friendly environments; by mounting attractive wall shelves, cubbies and ledges designed specifically to support cats, cat owners with limited space options can create space saving playgrounds and lounge spaces for their cats.
Besides classic, contemporary, and rustic cat furniture, CatsPlay also boasts a dizzying array of offbeat and unusual artisan-crafted cat furniture pieces. Looking for a cat bed that looks like a TV set? A cat hotel that is – literally – a cat hotel? A cat tree that looks like a giant martini glass? A cat condo that's a replica of the sinking Titanic? Look no further – CatsPlay offers these and a large selection of other whimsical, fun cat furniture creations that are sure to be both great fun for the cats and conversation pieces for the humans!
CatsPlay satisfies the needs of today's eco-conscious consumers, offering a robust selection of handcrafted, rustic cat furniture made from natural woods like red cedar or pine. Additionally, many of CatsPlay's traditional carpeted cat furniture selections use eco-friendly carpeting made from recycled materials.
CatsPlay now ships worldwide, enabling cat owners everywhere to treat their cats to an ultimate play space that betters their physical and emotional well-being, and blends beautifully with the colors and design style of the household.
About CatsPlay Cat Furniture
Founded in 2002, by lifelong cat lover, cat owner, and e-commerce entrepreneur Amy Strycula, CatsPlay's mission is to be the definitive web destination for cats and their owners who spoil them. Strycula has curated a collection of cat furniture from manufacturers, builders and specialty artisans from around the world, and brings them together for customization and purchase at CatsPlay.com Cat Furniture.