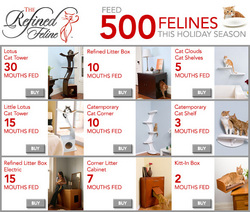 It's remarkable what we achieved and we couldn't be happier knowing that together with our customers we were able to help cats in need.
New York, NY (Vocus) February 10, 2010
The Refined Feline, http://www.therefinedfeline.com, is pleased to announce the results of its inaugural "Feed 500 Felines" drive launched to help alleviate the problem of hunger in Animal Shelters around the country. The program not only reached its initial goal of raising enough funds to feed 500 hungry cats, but surpassed it, bringing in money to feed over 3,000 of America's shelter cats. "We are thrilled with the outcome of "Feed 500 Felines," the response exceeded our expectations," said The Refined Feline founder Josh Feinkind. "It's remarkable what we achieved and we couldn't be happier knowing that together with our customers we were able to help cats in need."
As part of "Feed 500 Felines" The Refined Feline donated a portion of it sales from November - February to various animal shelters nationwide. With an estimated 3,500 animal shelters in the United States, the company called upon cat owners to vote on which ten shelters should receive the funds raised. Votes were cast for 243 shelters with Top Ten vote-getters and recipients of monies raised being:
Capital Area Animal Welfare Society, Baton Rouge, LA
Blind Cat Rescue, St. Pauls, NC
Forever Home Feline Ranch, Springfield, IL
A Tail at a Time, New York, NY
Rikkis Refuge, Orange, VA
CatNap From the Heart Inc, LaGrange Park, IL
Noahs Ark Animal Welfare Association, Ledgewood, NJ
AnimaLovers, Albany, NY
Love-A-Stray, Avon Lake, OH
Paws and Purrs Rescue, Inc, Scottsville, NY
"We are proud to be the beneficiaries of The Refined Feline's "Feed 500 Felines" program. The funds will be directed to our food budget for the cats in our shelter," said Bobbi Meyer, Director of CatNap for the Heart Inc., in LaGrange Park, IL. "The winter months in the Chicago area can be slow with weather confining people to their homes and the economy also impacting our donations. We are lucky to have some generous supporters who help us get through the slow donation months of winter."
When visiting the company website, consumers were informed how many cats could be fed by purchasing a particular product. For example the $349.99 Lotus Cat tower feed 30 shelter cats a day while the $99.99 Cat Clouds Cat Shelves feed 5 cats a day. What started out as a holiday drive was expanded after the overwhelmingly positive response to the program. With the goal of raising money to feed 500 shelter cats quickly met, The Refined Feline revised its goal to feeding 3,000 shelter cats this winter. When "Feed 500 Felines" ended, the company had donated enough money to feed 3,188 cats.
The Refined Feline is a manufacturer of award winning high end cat towers and litter box furniture. It is a subsidiary of the New York based company, RefinedKind Pet Products.
###