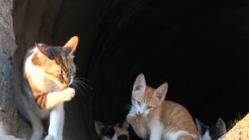 Trapping and releasing is one of the most humane ways to help control the already out of control overpopulation of cats.
Los Angeles, CA (PRWEB) October 31, 2012
981 Media and actress Arloa Reston have released the latest "Cat Chat with Arloa" episode, which focuses on feral (or stray) cats and how to best help them. The episode is available at CatChat.TV. "Cat Chat with Arloa" is devoted to giving humans the necessary information to keep their cats healthy and happy and helping cats in shelters find permanent homes!
Today's episode focuses on the feral cat population and how individuals can help support them and help cut down on the numbers of feral cats (and cats in general) who end up dead on the streets and in shelters. It is difficult for feral cats to survive completely on their own and their reliance on humans is explained.
Viewers are given some feral cat tips which include working with others in the neighborhood, making sure the cats have food and shelter, and identifying cats who might be adoptable as well as those who have already been spayed and neutered. The episode also explains the importance of the TNR (or trap and release) process and directs viewers to helpful resources for more information on how to do TNR's. According to Arloa, "Trapping and releasing is the process of trapping feral cats, spaying or neutering and vaccinating them, then releasing them back into their environment. It is one of the most humane ways to help control the already out of control overpopulation of cats and helps to lower the numbers of cats that die in shelters and on the streets."
This week on CatChat.TV, viewers will also be introduced to Stubby, a feisty, playful formerly feral cat who was identified at a feral feeding station as potentially adoptable and brought into a cat rescue in order to look for a permanent, loving home. Stubby is available for adoption through Cat Connection, a cat rescue group in Sherman Oaks, California.
"Cat Chat with Arloa" is an informative yet entertaining series focused on cat health and helping homeless cats fine permanent homes. New episodes are available every Wednesday morning at CatChat.TV.
About Arloa Reston:
Arloa has been a professional actress for over 15 years in film, television and theatre. Her credits include Saurian (sci-fi channel), Another World, Days of Our Lives, Desperate Housewives, Ugly Betty, Joey, and The Strange Case of Dr. Jekyll and Mr. Hyde, among others. She has been owned by cats her entire life and volunteers with Cat Connection, a no-kill cat rescue in Sherman Oaks, California.
About 981 Media:
981 Media serves companies who want the very best marketing tools around and specializes in using multiple forms of media to promote businesses. As a Los Angeles website design company, they offer innovative websites, corporate video production, corporate photography, mobile apps, and much more. They chose their name for its ability to represent what they give to their clients. The numbers 9, 8, and 1 mean completion, fulfillment, abundance, power, creativity, and confidence. 9 is also the square root of 81, and together they symbolize synergy and maximized outcomes. To learn more, give them a call at 877-981-6334 or get in touch at http://www.981media.com