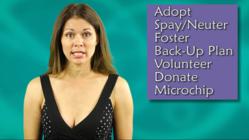 If everyone does their part, we can slow down and maybe even put an end to the body count.
Burbank, CA (PRWEB) August 08, 2012
981 Media and actress Arloa Reston are proud to release the latest episode in their series "Cat Chat with Arloa", which is available at CatChat.TV. The series is devoted to giving humans the necessary information to keep their cats healthy and happy and helping cats in shelters find permanent homes!
Today's episode addresses one of the most dangerous issues facing cats today: unnecessary shelter deaths. Animal shelters in the U.S. alone take in 6 to 8 million animals each year. 3 to 4 million of them, the majority of which are cats, are killed. Arloa provides information on what can be done to help reduce these deaths and conducts an enlightening interview with Adrienne Hagen, president of a local no-kill rescue organization called Cat Connection.
Arloa says, "This is the most important episode we have done. If everyone does their part, we can slow down and maybe even put an end to the body count." Viewers are encouraged to adopt cats, and are urged to adopt from shelters and rescue groups rather than breeders. "If your heart is set on a purebred, the shelters have them," says Adrienne. Spaying and neutering, which can be free or low-cost, is also suggested to curtail the problem. When adoption is not an option, fostering is advised to help make space in shelters. Whenever possible, Adrienne urges those who find stray animals to keep the animal until the shelter can place it.
The episode also encourages viewers to ensure someone will be there to care for their cat if they become unable to. The heavy reliance of shelters upon donations of time and money are highlighted, and viewers are urged to lend their support to groups such as No Kill Nation and Rescue 50.
Finally, the episode discusses microchipping; a low-cost way to increases the odds of owners being reunited with their cats in case the animal becomes lost.
"Cat Chat with Arloa" is an informative yet entertaining series focused on cat health and helping homeless cats fine permanent homes. New episodes are available every Wednesday morning at CatChat.TV. Today's episode also showcases Adam, a gorgeous, long hair 4-year-old rescue cat in search of a permanent home.
About Arloa Reston:
Arloa has been a professional actress for over 15 years in film, television and theatre. Her credits include Saurian (sci-fi channel), Another World, Days of Our Lives, Desperate Housewives, Ugly Betty, Joey, The Strange Case of Dr. Jekyll and Mr. Hyde and the upcoming feature, The Collection, among others. She has been owned by cats her entire life and volunteers with Cat Connection, a no-kill cat rescue in Sherman Oaks, California.
About 981 Media:
981 Media serves companies who want the very best marketing tools around and specializes in using multiple forms of media to promote businesses. As a Los Angeles website design company, they offer innovative websites, corporate video production, corporate photography, mobile apps, and much more. They chose their name for its ability to represent what they give to their clients. The numbers 9, 8, and 1 mean completion, fulfillment, abundance, power, creativity, and confidence. 9 is also the square root of 81, and together they symbolize synergy and maximized outcomes. To learn more, give them a call at 877-981-6334 or get in touch at http://www.981media.com