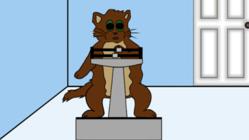 The prevalence of
excess body weight has increased by 90 percent in cats since 2007.
Burbank, CA (PRWEB) August 15, 2012
981 Media and actress Arloa Reston have released the latest in their series "Cat Chat with Arloa", which is available at CatChat.TV. The series is devoted to giving humans the necessary information to keep their cats healthy and happy and helping cats in shelters find permanent homes!
Today's episode is focused on feline obesity and its effect on cat health. An older article for The Journal of Nutrition written by Susan Donoghue and Janet M. Scarlett, cites a study done on Feline Obesity which determined that among the 31 U.S. veterinary hospitals used in the study, 25% of the cats were overweight. In their 2012 "State of Pet Health" report, Banfield Pet Hospitals (which cares for over 430,000 cats) states that obesity has reached epidemic levels and goes on to say, "The prevalence of excess body weight has increased by 90 percent in cats since 2007."
Being overweight or obese predisposes cats to a long list of diseases which includes arthritis, heart and respiratory problems, diabetes, hepatic lipidosis and renal (kidney) failure. In this episode, Arloa demonstrates how to tell if your cat is overweight and provides several tips for safely and gradually reducing its weight if it is overweight. Some of these include switching to moist food, avoiding free feeding, providing set meal times, and increasing the activity level. Arloa also stresses the importance of keeping an eye on the weight loss to ensure it's not happening too quickly which can lead to other serious problems.
Arloa's newest cat, Tabitha, is overweight and Arloa uses her as an example for the demonstrations. Going forward, Arloa will track Tabitha's weight loss progress and post regular updates with adjustments and tips on the CatChat.TV blog.
This week, CatChat.TV also features a rescue cat named Joe who is looking for a home. He is 8 years old, playful, curious and affectionate and gets along well with other cats, kids and people, but Joe became homeless when the family he has had since he was a kitten suffered from circumstances beyond their control. He was taken in by Cat Connection, a cat rescue group in Sherman Oaks, California.
"Cat Chat with Arloa" is an informative yet entertaining series focused on cat health and helping homeless cats fine permanent homes. New episodes are available every Wednesday morning at Cat Chat TV. Today's episode also showcases Adam, a gorgeous, long hair 4-year-old rescue cat in search of a permanent home.
About Arloa Reston:
Arloa has been a professional actress for over 15 years in film, television and theatre. Her credits include Saurian (sci-fi channel), Another World, Days of Our Lives, Desperate Housewives, Ugly Betty, Joey, The Strange Case of Dr. Jekyll and Mr. Hyde and the upcoming feature, The Collection, among others. She has been owned by cats her entire life and volunteers with Cat Connection, a no-kill cat rescue in Sherman Oaks, California.
About 981 Media:
981 Media serves companies who want the very best marketing tools around and specializes in using multiple forms of media to promote businesses. As a web design company in Los Angeles, they offer innovative websites, corporate video production, medical video production, corporate photography, mobile apps, and much more. They chose their name for its ability to represent what they give to their clients. The numbers 9, 8, and 1 mean completion, fulfillment, abundance, power, creativity, and confidence. 9 is also the square root of 81, and together they symbolize synergy and maximized outcomes. To learn more, give them a call at 877-981-6334 or get in touch at http://www.981media.com