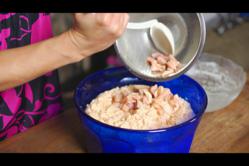 Speak with a pet nutritionist or holistic practitioner, as they have spent much of their careers devoted to nutritional research.
Los Angeles, CA (PRWEB) August 22, 2012
981 Media and actress Arloa Reston have released the latest in their series "Cat Chat with Arloa", which is available at CatChat.TV. The series is devoted to giving humans the necessary information to keep their cats healthy and happy and helping cats in shelters find permanent homes!
Today's episode is focused on easily making raw cat food at home. A raw food diet best approximates the diet that nature intended for cats. Cats in the wild don't sit over a stove waiting for their food to cook. They stalk and kill their prey and eat it raw, including the bones and organs, which provides them with everything they need. Studies, most notably the Dr. Francis M. Pottenger Jr. study referred to as "Pottenger's Cats" have shown that cats on a raw food diet are able to attain significantly better health than cats on a cooked food diet.
Freshly killed whole prey is the most natural, nutritionally balanced food for a cat to eat, but most cat owners are unwilling to provide their cats with live prey. The next most natural, biologically available diet consists of fresh raw meat mixed with the correct percentage of bones, organ meats and other vital supplements, some of which begin to diminish once the meat is dead.
Many cat owners have heard the benefits of raw food feeding, but are confused as to how to get started. Some try it on their own, unaware that they may be missing some vital ingredients necessary for cat health and others have found recipes in books or on the internet but feel overwhelmed by the whole process. There are some boutique stores and companies that specialize in nutritionally balanced raw food meals which can be purchased frozen, however these can be quite costly.
According to Cat Chat, the easiest way to step into the homemade raw food arena and still provide a nutritionally balanced raw food diet is through the use of kits or pre-mixes. Several companies make these kits and they generally only require the addition of raw meat and water. In this episode of Cat Chat, Arloa uses one of these raw food kits to demonstrate how easy it can be to feed your cat a nutritionally complete raw food diet.
Raw feeding is a personal decision and is not for everyone. Arloa strongly believes it is the healthiest diet for her cats, but she tells cat owners, "do your own research and perhaps speak with a pet nutritionist or holistic practitioner, as they have spent much of their careers devoted to nutritional research."
This week, CatChat.TV also features a rescue cat named Bob Gibson whose vivacious personality managed to keep him alive for four months at a high-kill shelter before he was taken in by Cat Connection, a no-kill cat rescue group in Sherman Oaks, California.
"Cat Chat with Arloa" is an informative yet entertaining series focused on cat health and helping homeless cats fine permanent homes. New episodes are available every Wednesday morning at CatChat.TV. Today's episode also showcases Adam, a gorgeous, long hair 4-year-old rescue cat in search of a permanent home.
About Arloa Reston:
Arloa has been a professional actress for over 15 years in film, television and theatre. Her credits include Saurian (sci-fi channel), Another World, Days of Our Lives, Desperate Housewives, Ugly Betty, Joey, The Strange Case of Dr. Jekyll and Mr. Hyde and the upcoming feature, The Collection, among others. She has been owned by cats her entire life and volunteers with Cat Connection, a no-kill cat rescue in Sherman Oaks, California.
About 981 Media:
981 Media serves companies who want the very best marketing tools around and specializes in using multiple forms of media to promote businesses. As a Los Angeles website design company, they offer innovative websites, corporate video production, corporate photography, mobile apps, and much more. They chose their name for its ability to represent what they give to their clients. The numbers 9, 8, and 1 mean completion, fulfillment, abundance, power, creativity, and confidence. 9 is also the square root of 81, and together they symbolize synergy and maximized outcomes. To learn more, give them a call at 877-981-6334 or get in touch at http://www.981media.com