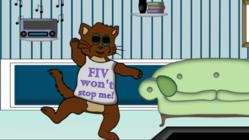 Generally cats with FIV have a good longevity.
Los Angeles, CA (PRWEB) August 29, 2012
981 Media and actress Arloa Reston have released the latest in their series "Cat Chat with Arloa", which discusses FIV and is available at CatChat.TV. The series is devoted to giving humans the necessary information to keep their cats healthy and happy and helping cats in shelters find permanent homes!
Today's episode is focused on FIV or feline immunodeficiency virus. Due to misconceptions about FIV, many FIV positive cats end up being euthanized unnecessarily simply because they are FIV positive. However, with proper basic feline health care, many FIV positive cats end up living relatively normal lives.
In this episode, Arloa interviews Dr. Laurel Leach, a veterinarian from Beverly Oaks Animal Hospital in Sherman Oaks, who has been practicing veterinary medicine for over 20 years. According to Dr. Leach, "generally cats with FIV have a good longevity." Dr. Leach also emphasizes the importance of having a simple, quick test done to find out whether or not your cat is FIV positive so that you can take appropriate health management strategies.
These health management strategies include keeping the cat indoors in a low-stress environment, feeding it a high quality diet, getting a check up twice a year and keeping an eye out for early signs of illness. Because the immune system may be compromised, illness in an FIV positive cat should be treated as soon as possible.
The episode also discusses the FIV vaccine that is available and recommends against getting it. Cats who have been vaccinated will test positive for FIV for the rest of their lives which can lead to other complications.
Finally, today's Cat Chat episode stresses that people should not be afraid of owning an FIV positive cat, and encourages people to consider adopting an FIV positive cat. Because of the fears and misconceptions about the disease, these cats are often overlooked when potential adopters look for a companion. This week on CatChat.TV, viewers will also be introduced to four FIV cats looking for forever homes--Henry, James, Greyson and Sammy. All four are available through Cat Connection, a cat rescue group in Sherman Oaks, California.
"Cat Chat with Arloa" is an informative yet entertaining series focused on cat health and helping homeless cats fine permanent homes. New episodes are available every Wednesday morning at CatChat.TV.
About Arloa Reston:
Arloa has been a professional actress for over 15 years in film, television and theatre. Her credits include Saurian (sci-fi channel), Another World, Days of Our Lives, Desperate Housewives, Ugly Betty, Joey, The Strange Case of Dr. Jekyll and Mr. Hyde and the upcoming feature, The Collection, among others. She has been owned by cats her entire life and volunteers with Cat Connection, a no-kill cat rescue in Sherman Oaks, California.
About 981 Media:
981 Media serves companies who want the very best marketing tools around and specializes in using multiple forms of media to promote businesses. As a Los Angeles website design company, they offer innovative websites, corporate video production, corporate photography, mobile apps, and much more. They chose their name for its ability to represent what they give to their clients. The numbers 9, 8, and 1 mean completion, fulfillment, abundance, power, creativity, and confidence. 9 is also the square root of 81, and together they symbolize synergy and maximized outcomes. To learn more, give them a call at 877-981-6334 or get in touch at http://www.981media.com