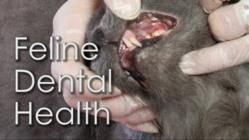 Los Angeles, CA (PRWEB) September 12, 2012
981 Media and actress Arloa Reston have released the latest in their series "Cat Chat with Arloa", which discusses basic cat care and is available at CatChat.TV. The series is devoted to giving humans the necessary information to keep their cats healthy and happy and helping cats in shelters find permanent homes!
Today's episode is the second part of a three part dental series and is a "how to" episode which discusses home dental care and shows viewers how to brush their cat's teeth at home.
Dental disease is the number one feline health problem seen by veterinarians and is the largest single cause of health problems in cats. At home dental care is often overlooked by pet owners until dental issues have already begun to surface. By the time many pet owners realize the need for at home dental care, their pets have already developed gingivitis, tooth decay, lesions and other oral problems and in some cases, these problems have led to more serious issues with their internal organs.
In today's episode, Arloa learns how to brush her cat's teeth from Dali, a certified veterinary dental technician from Houndstooth. In addition to demonstrating the actual teeth brushing, they demonstrate different methods of holding the cat to keep them comfortable while giving the person access to their mouth. They also discuss different devices that can be used to brush a cat's teeth, the use of toothpaste, and they explain exactly how to brush step by step. Once Dali has demonstrated, Arloa then tries it with her cat.
In next week's episode, Arloa and Dali will discuss professional dental cleanings, what to look for in professional dental hygienists and dental veterinarians and the differences in anesthetic dental cleanings vs. non-anesthetic dental cleanings.
This week on CatChat.TV, viewers will also be introduced to Moby Shamu, a sweet, playful black and white homeless cat looking for his forever home. He is available for adoption through Cat Connection, a cat rescue group in Sherman Oaks, California.
"Cat Chat with Arloa" is an informative yet entertaining series focused on cat health and helping homeless cats fine permanent homes. New episodes are available every Wednesday morning at CatChat.TV
About Arloa Reston:
Arloa has been a professional actress for over 15 years in film, television and theatre. Her credits include Saurian (sci-fi channel), Another World, Days of Our Lives, Desperate Housewives, Ugly Betty, Joey, The Strange Case of Dr. Jekyll and Mr. Hyde and the upcoming feature, The Collection, among others. She has been owned by cats her entire life and volunteers with Cat Connection, a no-kill cat rescue in Sherman Oaks, California.
About 981 Media:
981 Media serves companies who want the very best marketing tools around and specializes in using multiple forms of media to promote businesses. As a Los Angeles website design company, they offer innovative websites, corporate video production, corporate photography, mobile apps, and much more. They chose their name for its ability to represent what they give to their clients. The numbers 9, 8, and 1 mean completion, fulfillment, abundance, power, creativity, and confidence. 9 is also the square root of 81, and together they symbolize synergy and maximized outcomes. To learn more, give them a call at 877-981-6334 or get in touch at http://www.981media.com