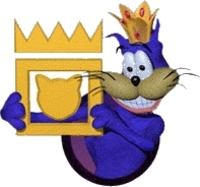 For a small business to thrive during this recession, you have to invest in focus groups
Glen Carbon, IL (PRWEB) December 17, 2009
With today's economy being in crisis, the news is rife with stories of small businesses closing. According to the U.S. Small Business Administration Office of Advocacy's September 2009 report, there were 595,600 business closures and 473,546 small businesses that filed for bankruptcy in 2008. So how does a small business survive in a recession? Kat-Box King is a small business that is more than surviving; the company is thriving, with new product placement nationwide in Wal-Mart stores. Company president and founder, Sean McGivern, shares his knowledge with other small business owners on how to prosper during a recession.
Kat-Box King's business concept derived out of necessity during McGivern's college years; his roommate had a cat and never cleaned the litter box. McGivern decided to design a disposable litter box that was easy to use, portable and gender-specific. As a result, Kat-Box King was born.
McGivern started this business by sharing his product with friends in exchange for feedback. However, his friends only had positive things to say, which was hindering McGivern's productivity.
McGivern says, "For a small business to thrive during this recession, you have to invest in focus groups. Your friends will give you feedback, but I learned they only tell you the positive. I needed to find out if there were or are any negatives too."
The input provided from focus groups was essential to McGivern's success. It is the main advice he passes along to other businesses. "If you are struggling with your product, take it to focus groups. Utilize the input and take note of the criticisms altering the product until the focus groups are satisfied."
Kat-Box King's product Litter to GoTM is located in over 500 Wal-Mart stores across the country.
Litter to GoTM is a portable, all in one, leak-proof, disposable litter box. It includes 5 lbs. of Ultra Clumping Litter and has a suitcase-like handle that makes it great for travel. The product is also recyclable to ensure it coincides with a household's green efforts. Litter to GoTM allows you to change the litter box and completely dispose of it on a weekly basis, eliminating cat litter odor and preventing the spread of bacteria.
###