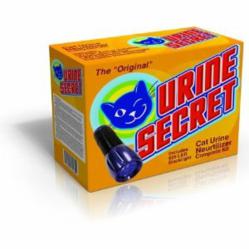 There are thousands of searches on Google every month for cat urine odor removal solutions. It is a common problem.
(PRWEB) April 13, 2012
Cat urine odor removal is only seven seconds away with a new product from Planet Amazing. According to Justin Douglas of Planet Amazing, "Urine Secret" is the latest in their catalog of environmentally friendly non-toxic home solutions. "The cat urine smell is an embarassing problem that is actually easy to treat," says Mr. Douglas. "Cats sometimes become angry or have an emotional reason to avoid the litterbox, and now this problem can be solved in seven seconds with our new product "Urine Secret". The product comes with instructions on how to remove cat urine and removing the smell of cat urine from anywhere in your house including carpet. This odor eliminator is a two-part mixture that has 60 packets so you can actually use it 60 times."
Mr. Douglas says that it is a common problem and that there are thousands of searches on Google every month for cat urine odor removal solutions. "I know it can be a little embarassing or even gross to talk about, so let's just get to the point, you don't like the smell, you use this product and the smell goes away instantly and with environmentally-safe and family-friendly application, it is easy to use. So when you have guests coming over and you house smells like cat pee, you can quickly remove the cat urine smell from your furniture and especially in carpets. Cat urine odors and most other urine odors are virtually impossible to eliminate with normal household cleaners. The chemical compound of these odors is so strong, no matter how well you clean, the smell can linger for months. Normally you cannot cover up urine odor, but with our product you can actually eliminate it."
According to one customer, "I was hoping for a miracle to get rid of pet stain smells, and have tried most products out there. The product works really well, and cleans the smell out of the carpet."
Mr. Douglas says "the product does not prevent cats from repeating their bad habits, but it comes with 60 packets so you can use it up to 60 times to eliminate odor. The smell is removed so thoroughly and completely that pets will not be able to identify the spot, so you no longer have to worry about your animal or a new pet marking his territory. You can use it in the house, car or garden area."
Mr. Douglas says that common questions asked in regards to this product are "how to get pet urine smell out of furniture, how to get cat urine smell out of hardwood floors, how to remove the smell of cat urine and home remedies for removing cat urine odor." He says that the product resolves all of these questions and that it is now available to the public.
For more information, visit the Amazon.com page for "Urine Secret" cat urine smell remover.
PlanetAmazing.com is the premier manufacturer and distributor of a wide range of organic and inorganic "GRAS" solutions that anyone…no matter their experience…can use to eliminate real everyday problems.