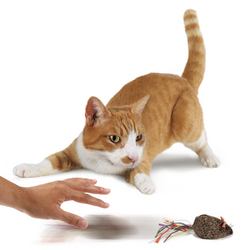 Cats aren't really such mysterious creatures once you understand their needs
San Rafael, CA (PRWEB) November 16, 2010
Many of us don't realize that whether it's napping on a pile of fresh-from-the-dryer towels, stalking birds from behind a closed window or scratching up your expensive sofa, a cat's behavior is almost entirely driven by needs common to the entire species, wild or domesticated. With the innovative SmartyKat CompleteNeeds System, cat owners will have a better understanding of those needs and be better equipped to meet those needs with fun, stylish and sustainable SmartyKat cat toys, scratchers, treats and more.
"Cats aren't really such mysterious creatures once you understand their needs," says Christina Gray, Marketing Communications Manager for SmartyKat by Worldwise. "We created the SmartyKat CompeteNeeds System in order to help cat owners become better, more educated caretakers of their feline friends. Cats are easy to understand and satisfy if you can speak their language."
With the CompleteNeeds System, SmartyKat has identified 12 fundamental physical, instinctual and emotional needs for cat owners in a simple graphic illustration printed on each product package. The CompleteNeeds "wheel" graphic organizes the 12 specific needs under one of three categories - emotional needs, physical needs or instinctual needs. "Hunt would be an instinctual need, for instance, while "Interaction" is an emotional need. On the shelf, cat owners will see individual SmartyKat products identified by the special need it helps fulfill.
Cat toys greatly illustrate the beauty of the SmartyKat CompleteNeeds System; instead of picking a toy randomly, for instance, or always choosing the same types of toys for your cat - a wand, ball or catnip toy, for example -- cat owners can fulfill a wider range of different feline needs by selecting toys that are designed to satisfy a particular need, such as:
Exercise
Not all cat toys offer the sustained physical activity that satisfies a cat's need for daily rigorous activity. The SmartyKat LocoLaser laser light toy is designed to get sedentary or overweight cats moving at light speed. Press the button on the mouse-shaped laser toy and see cats going airborne to catch the bug-sized beam of light. Replaceable batteries mean the fun can keep going and going and going.
Interaction
Fun interaction with a human being helps cats of any age become happier, more socialized pets. The SmartyKat BouncyMouse interactive cat toy is a cute, cuddly mouse toy that bounces from the end of a springy cord suspended from a simple finger ring. The mutual test of reflexes is great fun but as importantly, it engages pet and pet owners in a way that builds a trusting bond.
Stimulation
Cats in the wild get all the stimulation they need from daily acts of survival. But domestic cats, particularly housebound cats, benefit from the added spark of stimulating energy that catnip provides. Products such as the SmartyKat CatnipKiss satisfy a cat's need for stimulation. Made from concentrated organic catnip compressed tightly into a ball, this toy is both physically and mentally stimulating.
Hunt
Why is it that a perfectly well-fed domestic cat will stalk real and imaginary creepy crawlers or fluttery things like a hungry lion? It's because predatory instinct is written in a cat's genetic code! Toys shaped like small prey such as the SmartyKat ChickadeeChirp touch-activated bird-sound toy that makes realistic bird sounds and the SmartyKat SpeedChaser pull-back mouse toy that zips and zooms around the room on two wheels are two great examples of several SmartyKat 'Hunt" toys.
Treat
Ok, the need for a tasty treat is not quite as hard-wired as the desire to hunt. But treats do satisfy a cat's emotional need to bond with its owner. SmartyKat KnockOut Nibblers with added vitamins, minerals and amino acids are the perfect way to satisfy a cat's craving for a treat (aka 'attention") from his human friend. These bite-sized morsels of fish proteins have an irresistible crunch and are naturally preserved. But treats don't have to be dispensed by human beings now that there's the KnockOut treat toy. This egg-shaped toy bobbles and rocks as cats 'knock out' a treat from within. SmartyKat KnockOut is available from $7-$8 at Walmart and Target, and KnockOutNibblers from $7 at Target.
SmartyKat toys are available at most leading national retailers including Safeway, Albertson's Kroger, Publix, Kmart, Target and Walmart. For more information about these and other SmartyKat toys, visit http://www.worldwise.com or call 1-800-967-5394
The SmartyKat and PoochPlanet brands are manufactured by Worldwise, a leading consumer pet products company. By developing unique, high-quality products made from natural, recycled, reclaimed and certified organic material, and distributing them through the nation's largest retailers, Worldwise brands are changing consumer beliefs about the look, feel, price and performance of environmentally-responsible products.
###