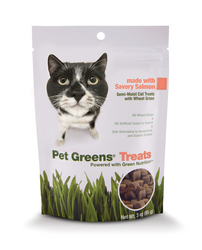 Pets have a natural attraction to greens that provide nutrients missing in most commercially produced foods
San Diego, Calif. (PRWEB) October 13, 2009
Bell Rock Growers, the pioneer grower and supplier of green nutrition products for pets, adds wild Savory Salmon to the company's popular line of semi-moist Pet Greens® Treats for cats.
Pet Greens Treats for cats, all made with organic wheat grass, are now available in three tasty recipes: wild Savory Salmon, Roasted Chicken and Deep Sea Tuna semi-moist treats. Recipes contain no wheat gluten and no artificial colors or flavors. Savory Salmon recipe is made with the highest quality wild salmon caught in the deep sea.
Pet Greens Treats are the pet food industry's only line of treats made with organic wheat grass. While wheat grass and cat treats may seem like an unusual combination, Bell Rock Growers Co-Founder Catherine Hoffmann says Pet Greens Treats are a tasty, convenient way to satisfy pets' instinctual attraction to greens. "Pets have a natural attraction to greens that provide nutrients missing in most commercially produced foods," says Hoffmann, who has co-authored an e-book on the topic. The e-book, called 'Why Green Nutrition? Exploring the Nutritional Benefits of Wheat Grass for Pets,' is available for free downloads at http://www.bellrockgrowers.com.
The Power of Green Nutrition is at the core of Bell Rock Growers' inspiration and mission. Hoffmann's passion for Pet Greens began after discovering the Power of Green Nutrition at a wellness retreat in California. At the heart of her experience was the use of one simple, yet incredibly nutrient-rich plant - wheat grass. "After experiencing the healing qualities of wheat grass in my own life, I learned green nutrients also improve our pets' health. We developed Pet Greens to provide quality pet nutrition similar to green foods people include in their own diets," says Hoffmann.
Wheat grass is one of the finest sources of antioxidant vitamins, minerals and other nutrients for cats, dogs, birds, reptiles and other small animals. Nutrient-packed Pet Greens Treats, made with organic wheat grass, provide safe alternatives to potentially harmful household plants and chemically-treated outside grasses.
Pet Greens Treats have a suggested retail price of $3.99 for 3 oz. packages of semi-moist cat treats in all three varieties and $5.29 for 4 oz. packages of jerky-style dog treats, available in Roasted Chicken and Savory Beef. Retailer prices may vary.
About Bell Rock Growers
Based in San Marcos, Calif., Bell Rock Growers is a certified organic grower of live wheat grass and the pioneer supplier of green nutrition products for pets. The company's complete line of products Powered with Green Nutrition® include: certified organic Pet Grass®, Pet Greens Treats for dogs and cats, self-grow Pet Grass kits, live catnip, premium catnip buds, and an earth-friendly grooming line made with wheat grass. For more information, visit http://www.bellrockgrowers.com.
###