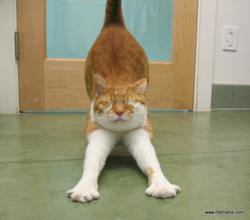 San Francisco, CA (Vocus/PRWEB) May 10, 2011
Pet Camp, the premier San Francisco overnight pet boarding facility and daycare center has announced their Kool Kat Photo Contest. Entries are being accepted until June 9, with voting following from June 9-16 and the winner announced on June 23. Grand prize is a one-week stay at the Pet Camp Cat Safari and photo prominently featured on the Pet Camp Facebook page.
"With the whole city in an uproar over off-leash dogs at Fort Funston and Crissy Field, we're hearing yowls of protest from cats. The cats say they, after all, don't do leashes and we really need to focus our attention where it belongs – on them," said Virginia Donohue of Pet Camp. "Our Kool Kat photo contest gives cats an opportunity to strut their stuff and win the ultimate off-leash experience, a week at our safari garden."
To enter the contest, cat owners must first become a fan of Pet Camp on Facebook by clicking on the "like" button, then they must post a photo of their favorite feline. Everyone will then have a chance to vote on their favorite photo the week of June 9 – 16, and the winner will be announced on June 23.
Cat Safari is the unique San Francisco boarding facility for feline campers—the only one of its kind in the country. It has a lushly landscaped, jungle-like environment cats can enjoy and explore while under the loving supervision of Pet Camp employees.
For more information about the Kool Kat Photo Contest or Pet Camp's services, contact them by phone at (415) 992-7173, visit their website at http://www.petcamp.com, or become a fan by clicking on the "like" button on their Facebook page at http://www.facebook.com/PetCamp. Pet Camp Cat Safari is located at 3233 Sacramento Street in the Presidio Heights neighborhood of San Francisco.
About Pet Camp
Since opening their doors 13 years ago, Pet Camp has become the premier provider of lodging and dog and cat daycare in San Francisco. (Pet Camp can be found by searching for "San Francisco dog kennel" or "San Francisco cat kennel" on Google, but they think of themselves as more of a "canine and feline lodge.") They treat dogs and cats to the greatest collection of activities and experience that can be found in the City.
Their canine outdoor play area is the City's largest outdoor off-leash play area for dogs, and they operate the nation's only "outdoor" safari experience for feline guests of the San Francisco cat daycare. Pet Camp is the country's first green certified pet care facility.
###