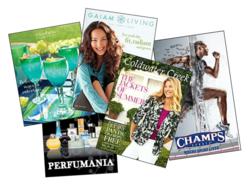 "Product-focused search and exclusive special offers attract highly qualified shoppers," says Leslie Linevsky.
Fort Lauderdale, FL (PRWEB) June 03, 2011
Prime e-retailers, including Gaiam, Cambria Cove and Perfumania, are among this month's new lineup at Catalogs.com. These stores join dELiA's, Fossil, The Company Store, Jos. A. Bank, Coldwater Creek, Sears and over 740 brand name and specialty e-retailers and e-commerce catalog stores in reaching over 1 million monthly Catalogs.com visitors.
Catalogs.com leverages 15 years of expertise in traffic and lead generation for catalog and ecommerce companies. Their team of internet marketing consultants work with stores to select marketing solutions from a menu of innovative programs that include icon-based website traffic listings, opt-in email lead generation, catalog request services and feed-based digital interactive catalogs for PCs and iPads.
"We have built a dynamic and highly trafficked shopping portal so that brick-n-mortar stores, e-retailers and traditional catalogers can showcase their products online to consumers who are looking to discover new brands and buy their specific merchandise. It's like match-making," says Leslie Linevsky, Catalogs.com co-founder. "We introduce the consumer to the business that sells what they want."
"Shoppers usually know what they are looking for, but not all the places to find it," says Linevsky. "Online shoppers find Catalogs.com through natural search, targeted advertising and social media recommendations. They stay – and return - because Catalogs.com makes shopping through hundreds of stores fun and easy. Our store listings are organized into shopper-friendly categories that are simple to navigate. Many of the big name stores - like Kmart and Disney - are here, as well as an incredible selection of niche stores – such as Things You Never Knew Existed. This makes it possible for Catalogs.com to bring a huge variety of merchandise to our shoppers."
Other new retailers at Catalogs.com, like Aeropostale, Champs Sports and Coldwater Creek are also building digital catalogs using the Catalogs.com patent pending program at shop.catalogs.com. This new iPad and PC based interactive catalog technology provides these e-retailers with a cutting-edge way to reach both desktop and mobile shoppers in ways never before imagined.
"We understand that custom and unique marketing solutions must be designed and then effectively implemented in order to capture web sales. Our goal is to create visually stimulating combinations of products, such as page-flipping iPad and PC based catalogs, powerful search mechanisms and category driven departments," Linevsky adds.
About Catalogs.com
Since 1996, shoppers have universally recognized Catalogs.com as a trusted premier shopping service, attracting more than 1,000,000 unique visitors each month. The comprehensive Catalogs.com website, newly launched Catalogs.com for iPad and Catalogs.com online catalogs feature over 740 major and specialty retailers and provide shopping access via web, iPad and mobile phone platforms.
###