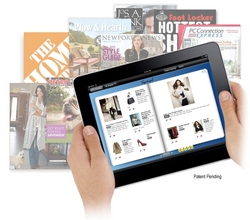 "Armed with our expert tips for shopping online, turn on your computer instead of your car and save gas, money, time and your holiday cheer," suggests Leslie Linevksy, co-founder of Catalogs.com
Fort Lauderdale, FL (PRWEB) November 18, 2010
The catalog experts at Catalogs.com have a great plan for the day after Thanksgiving, known as "Black Friday." They suggest that everyone sleep late, enjoy their family, slice the leftover turkey and pop in a good movie. Black Friday is the biggest shopping day of the year, when holiday stress coincides with packed parking lots, crowded malls, unruly bargain hunters and long lines.
"Relax. Enjoy your four day holiday," encourages Leslie Linevsky, co-founder of Catalogs.com. "Cyber Monday – the Monday after Thanksgiving – officially marks the beginning of online sales, free shipping and holiday specials to tempt cyber shoppers. Shopping online and through catalogs is a great alternative to hitting the malls. You save gas, money, time and, most of all, your sanity by powering up your computer instead of your car."
Catalogs.com staff -- experts in online shopping, online saving and catalog retailing -- offer these six online shopping tips:
Shopping Tip 1: Safeguard your personal information
A common concern expressed in the hundreds of daily emails to Catalogs.com's "Joan and Jackie," is knowing whether or not it's safe to enter credit card information online. A website should encrypt all personal data before transmitting it to the merchant. Shoppers can make sure that a site is secure by finding the "VeriSign Trusted" check mark, "https" in the url of the shopping cart page, a closed padlock or unbroken key at the bottom of the screen, or the McAfee shield.
Shopping Tip 2: Save time on forms
The top workday timesaver mentioned by creative staff at Catalogs.com can also help holiday shoppers: autocomplete software. "I couldn't enter catalog information for hundreds of stores, constantly update product pages and fill out internal spreadsheets without auto-complete software. I know shoppers don't like typing and retyping their information into order forms. RoboForm.com offers free autofill software to manage passwords and personal information. This is a great time saver and a safe way to store your personal information on your computer to make online shopping quicker," suggests Jody, Catalogs.com Creative Director.
Shopping Tip 3: Know how to search
Catalogs.com VP of Online Media, Matt, says that online shoppers often don't understand how sophisticated both search engines and online retailers have become. He suggests that shoppers enter very specific search criteria. Instead of searching for "shirts," for example, search for "men's shirts blue long sleeve." Another way to save time, he advises, is to use one search to find gift ideas from multiple stores. "A search for "men's gifts under $40" will get your creative gift-giving juices flowing."
Shopping Tip 4: Look for suggestions
Click on the lists of "Best Sellers" and "Top Gift Ideas," or use online Gift Finders. "Online retailers spend a lot of time analyzing what people buy to help you make your gift decisions, and putting their merchandise in categories so you can find what you want quickly," says Amy, marketing specialist at Catalogs.com. "Also, use coupon codes, like the specials featured on Catalogs.com. Lots of people forget their savings!"
Shopping Tip 5: Pay attention to details
Detail-minded Senior Editor Samara, who blogs at Lets Talk Style, is a fan of reading every retailer's shopping data. "Each site is different," she says. "Know the refund and exchange policies, ensure the correct delivery dates to make certain that gifts arrive on time and compare prices and savings," she advises. Samara keeps a folder of her online transactions on her computer desktop titled "Holiday Shopping" for easy reference.
Shopping Tip 6: Save your paperwork
As tempting as it is to tear open packages and throw away the clutter, the Catalogs.com social media and public relations team agrees: save everything until after your holiday gifts have been deemed "perfect." Open packages carefully, save boxes, and don't throw away the return labels or receipts. "Retailers have made it simple for online shoppers to return and exchange merchandise by providing pre-printed labels and simple forms. Don't throw your paperwork away until you are certain you don't need it," they say.
Linevsky also suggests fitting your shopping into small spaces of free time instead of blocking out an entire day. "Use your iPad and your phone to shop while you are on the go. Find a good shopping portal, like Catalogs.com, with a mobile or iPad shopping app that makes your catalog browsing easy by collecting great stores all in one place," she says.
About Catalogs.com
Catalogs.com is the Internet's trusted authority on catalog shopping. Since 1996, shoppers have universally recognized Catalogs.com as a premier shopping service, attracting more than 950,000 unique visitors each month. With 35 unique categories, the comprehensive website and newly launched Catalogs.com for iPad allow consumers to preview over 650 major and specialty retailers and provide access via web, iPad and mobile platforms to opt-in to receive a specific catalog, shop major and specialty retail websites and find great savings offers from hundreds of merchants.
###