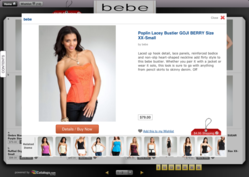 This holiday season, both shoppers and reviewers are calling Catalogs.com for iPad the hottest catalog app for shopping on the tablet - Richard Linevsky
Fort Lauderdale, FL (PRWEB) November 30, 2011
Catalogs.com for iPad has earned a spot on PadGadget's list of the top great iPad holiday shopping apps. The Catalogs.com for iPad app captured the attention of PadGadget reviewers, thanks to the slick and streamlined interactive browsing features that make it easy to shop hundreds of popular catalogs and online shopping destinations including MacConnection, bebe, FootLocker, Harry & David, Hot Topic, Petco and other celebrated stores. Reviewers noted user-friendly exclusive deals and free shipping as a highlight of the Catalogs.com budget-friendly shopping app.
"PadGadget reviews apps weekly, and it's exciting to make the short list of great holiday shopping apps," says Richard Linevsky, co-founder of Catalogs.com. "Obviously, we agree that our app is 'just what the shopper is looking for', and we find ourselves in great company on the list, which also includes apps from FedEx and Google."
Catalogs.com for iPad was first launched in October 2010, when shopping on the iPad was a relatively new experience. The Catalogs.com for iPad app was developed to capitalize on the functionality of the device by creating an app that created an entertaining, engaging and thoroughly modern shopping experience. The app includes features such as bookmarking, wishlist capability, detailed product information and an automatically generated list of related items for shoppers.
Since then, Catalogs.com for iPad has incorporated even more new features over the past year, and is now in version 2.1. Featuring flippable pages, layered product views, pop-up detail screens and crystal clear images, the app works with the slick touch screen of the iPad to create a cutting-edge, fast, friendly and interactive shopping environment for today's most tech savvy shoppers.
"Catalogs.com for iPad brings the feeling and variety of having hundreds of catalogs at a shopper's fingertips, with multiple innovations in one application," says Linevsky. "One marked advantage over traditional print catalogs is that the digital catalogs featured in this app are updated with automatic downloads of new merchandise, up-to-the-minute deals and special savings. Every time a shopper opens this app, they are able to experience a completely new shopping adventure. Catalogs.com for iPad is an innovative approach to presenting catalogs because it was developed specifically for the iPad … we didn't just put photos of catalog pages on the tablet, we created a highly graphical and interactive shopping experience designed specifically for the most popular tablet device."
The free Catalogs.com for iPad app is available at iTunes, and can be viewed in a desktop version at http://shop.catalogs.com.
About Catalogs.com
Since 1996, shoppers have universally recognized Catalogs.com as a trusted premier shopping service, attracting more than 1,000,000 unique visitors each month. The comprehensive Catalogs.com website, newly launched Catalogs.com for iPad and Catalogs.com online catalogs feature over 740 major and specialty retailers and provide shopping access via web, iPad and mobile phone platforms.
# # #