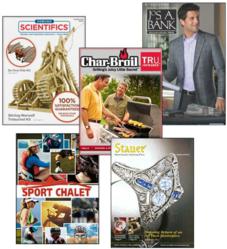 Know if your dad or grandpa is a traditional guy or one who is into the newest trends. - Leslie Linevsky, Catalogs.com co-founder
Fort Lauderdale, Florida (PRWEB) June 10, 2013
In June, hundreds of thousands of shoppers looking for just the right gift for dad are inspired by retailers at Catalogs.com, including Stauer, Jos. A. Bank, and Char-Broil. Shopping tips, Father's Day savings and gift guides suggest great gifts from cufflinks to telescopes. Spending in the men's categories increases by over 60% as kids of all ages choose gifts to show their love to dads and grandfathers.
Father's Day doesn't need to be a stressful shopping adventure if you consider your dad's personality type, say shopping experts at Catalogs.com. Define your dad's personality, from traditional or techy to trendy, and choose a gift that is loaded with thought rather than another blue-striped tie. You know if your dad is the guy who likes his gift without any surprises, or if he gets excited when you push the envelope.
"When choosing something for dad, there is absolutely nothing wrong with tried and true gifts," says Leslie Linevsky, co-founder of Catalogs.com. "Our stores report that traditional gifts are always great sellers for dad, and even more so if they take a trendy spin. You should know whether dad prefers ballpoint or roller-ball, if he is an Apple fan or a PC user. If you are buying dad a grill, find out if he likes cooking with gas, charcoal or TRU-Infrared technology, like the newest grills from Char-Broil."
Sometimes even forward-leaning dads prefer the traditional. "One of our biggest sellers continues to be the classic automatic watch," observes Sarah Roberts, Director of Catalog Marketing at Stauer. "In an age where everyone has a smartphone in their pocket, it seems that there is still a desire for "old-fashioned" machines that run with tiny gears, levers and springs. They tell time as accurately as any piece of high-tech equipment, but more importantly, a unique mechanical wristwatch makes a statement about the dad who wears it."
Pens, clothing, yard equipment, tools and fitness gear are great ideas for fathers, but make sure the specific item you choose is right for your own dad, Linevsky reminds shoppers. Traditional dads really are content with classic clothing, gourmet grill tools, wallets, watches and pens. For the dad who likes things trendy, shop the "geeks and gadgets" categories, suggests Linevsky. "A telescope from Edmund Scientifics, or a hand-help Garmin GPSMAP at Sport Chalet will make techy dads happy," she adds. "An office putting green is a cool idea, too. Of course, don't forget a handwritten card."
Jos. A. Bank counsels Father's Day shoppers to consider dad's style when selecting gifts, especially a shirt, tie or accessories like wallets. Decide if your dad is more comfortable in traditional looks, or if he leans to the new trimmer fashions. Lots of stores, like Jos. A. Bank and Sport Chalet, offer an online gift guide to help shoppers tailor their gift to their own dad.
About Catalogs.com
Since 1996, shoppers have universally recognized Catalogs.com as a trusted shopping and catalogs portal, attracting more than one million unique visitors each month. The comprehensive Catalogs.com website, newly launched Catalogs.com for iPad, and Catalogs.com online catalogs feature over 740 major and specialty retailers, and provide shopping access via web, iPad and mobile phone platforms.