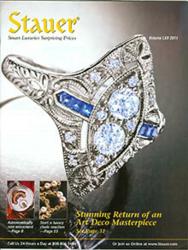 Online jewelry stores offer shoppers a myriad of glittering options and exclusive internet savingss. - Leslie Linevsky, co-founder Catalogs.com
Fort Lauderdale, FL (PRWEB) December 03, 2012
Online jewelry stores enjoy robust holiday sales, despite shopping experts' general advice that Black Friday, Cyber Monday and Christmas gift givers avoid purchasing all that glitters or is gold. Visibility, exclusive deals, "flash" sales and the ability to browse the complete product line can drive a blockbuster holiday season. Jewelry and watch sales are especially robust right before the holidays, but there is a year round love affair with everything that sparkles, according to traffic statistics at Catalogs.com.
Jewelry and watch retailers recently added to expand the shopping options at Catalogs.com include:

Stauer – This well-known independent store features handsome men's and women's watches, fine jewelry and collectible treasures, including a $20 off deal for Catalogs.com shoppers.
Apples of Gold – Showcases religious jewelry, fine gold and silver wedding bands and personalized pendants with free shipping to motivate Catalogs.com shoppers.
The Bradford Exchange Jewelry – Continues a tradition of beautiful hand-crafted and personalized women's and men's rings, watches, necklaces and other unique jewelry with attractive subscription and payment plans for collectors.
1928 Jewelry – Inspires individual style with vintage feel jewelry and a distinctly modern edge that includes 20% savings for online shoppers at Catalogs.com.
Amrita Singh Jewelry – Offers ethnic and art-inspired bangles, rings, earrings and statement necklaces, and 20% off all purchases exclusively for Catalogs.com shoppers:
MrWatch.com – Specializes in designer men's and women's watches at highly competitive prices and offers free shipping exclusively at Catalogs.com.
"The number of jewelry and watch catalogs and online stores at Catalogs.com has grown by 60% in the last three quarters, and the jewelry category continues its outstanding performance, with quarterly increases in consumer traffic," reports Leslie Linevsky, co-founder of Catalogs.com. "Website reviews, e-catalogs, consumer-friendly request forms for print catalogs and exclusive online savings provide business-building advantages for jewelry e-retailers, which is why an online presence is a winning proposition."
Getting product in front of consumers is the single most important marketing objective for brick-and-mortar jewelry retailers. With 79% of consumers going online to research style, quality and pricing, and 76% of consumers visiting store websites to find discounts and coupons (Flieshman Hillard, 2012 Digital Influence Index), an internet presence is a key component of growing retail visibility, adds Linevsky.
"The big difference between Catalogs.com and a large shopping center is that large corporations often seem to "take over" a mall with multiple stores owned by the same company, selling the same merchandise at the same prices. Jewelry retailers at Catalogs.com give the shopper a diverse collection of both brand and niche retailers. We really offer the consumer a multi-faceted shopping experience," says Linevsky. "Jewelry retailers have great success building their unique identity online, and malls are definitely not the only place for consumers to purchase some bling for their finger - or their sweetheart's."
About Catalogs.com
Since 1996, shoppers have universally recognized Catalogs.com as a trusted premier shopping service, attracting more than 1,000,000 unique visitors each month. The comprehensive Catalogs.com website, newly launched Catalogs.com for iPad and Catalogs.com online catalogs feature over 740 major and specialty retailers and provide shopping access via web, iPad and mobile phone platforms.