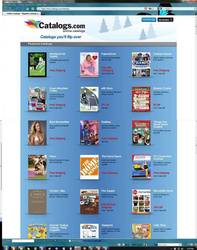 Individual acts make a big difference – if online catalogs inspire people to think about the environment while they shop, Catalogs.com can have a marked and positive influence on sustainable green behavior. - Leslie Linevsky
Fort Lauderdale, FL (PRWEB) February 4, 2011
Catalogs.com encourages shoppers to "Go Green" with an eco-friendly offering of online catalogs that has quickly grown to include more than 70 well-known brands. The collection of major retailers with online catalogs at Catalogs.com includes Little Tikes, Tilly's, MacConnection, Oriental Trading Company, Foot Locker and Petco.
The online catalogs from the web's premier shopping portal underscores Catalogs.com's ongoing commitment to provide environment- friendly shopping options for consumers.
Catalogs.com online catalogs is the most recent e-commerce shopping option in the Catalogs.com lineup of web, iPad and smartphone sites. Catalogs.com is committed to the concept that each innovation in online shopping combines with other acts of green for an ever-widening impact on sustainability.
This philosophy is paying off: retailers are equally enthusiastic about "going green," and the selection of online catalogs expands weekly.
"The online catalogs version of Catalogs.com is a totally green, environmentally conscious place for shoppers to find everything they want, from gourmet chocolate to home décor -- and an extensive selection of gift ideas," says Leslie Linevsky, co-founder of Catalogs.com. "We want to encourage people to go green by making it easy and fun to shop online. Saving paper and fuel are very obvious ways that online catalogs reduce our carbon footprint."
Catalogs.com leveraged advancements in HTML5 to develop and implement the interactive desktop catalog concept. The HTML5 programming language makes many of the dynamic features associated with older software, like Flash, possible without requiring the plug-ins or downloads that may have confused computer users in the past. For example, HTML5 makes the online catalogs on Catalogs.com come alive with the motion of turning pages.
"Promoting environmental sustainability by leveraging web development innovations plays an important role in Catalogs.com's commitment to influencing how people address environmental issues," adds Linevsky. "We are looking for green ways to enjoy online shopping, like flipping through catalogs for Valentine's Day gift ideas. Individual acts make a big difference – if online catalogs inspires people to think about the environment while they shop, Catalogs.com can have a marked and positive influence on sustainable green behavior."
About Catalogs.com
Since 1996, shoppers have universally recognized Catalogs.com as a trusted premier shopping service, attracting more than 950,000 unique visitors each month. The comprehensive Catalogs.com website, newly launched Catalogs.com for iPad and Catalogs.com online catalogs feature over 650 major and specialty retailers and provide shopping access via web, iPad and mobile phone platforms.
###