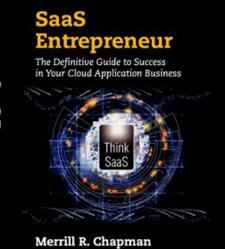 San Mateo, CA (PRWEB) November 06, 2012
Catalyst Resources' work in SaaS application and user experience design is prominently featured in the new book SaaS Entrepreneur: The Definitive Guide to Succeeding in Your Cloud Application Business, by industry analyst Rick Chapman.
The book introduces application and user experience design as significant sources of both decreased costs and increased revenues in SaaS. SaaS companies must compete not just on product features but on the quality of user experience. But the best practices for user experience design in SaaS, can diverge sharply from their on-premise counterparts.
Chapter six presents a series of SaaS-specific design principles originally presented at SaaS University by Paul Giurata, managing partner of Catalyst Resources. The principles are applicable to companies transitioning from an existing on-premise product to SaaS, as well as building new SaaS products. The principles cover porting, cannibalization, data driven analysis, customer life cycle, self-service, modularity and more. The final pages of the chapter give specific visual examples of how B2B firms have applied these best practices to drive solid business value.
SaaS Entrepreneur can be used by SaaS (Software as a Service) B2B companies of any size. Larger software publishers with existing desktop products as well as firms selling on-premise, client/server applications can use it as a transition guide to designing and delivering new SaaS products and lines of business. Smaller firms can use the book as a field manual to success and apply the case studies, design principles, data and checklists to speed their time to market and avoid making mistakes and wasting money as they ramp up operations, marketing and sales activities.
"SaaS has pushed everyone to a new awareness of the importance of user experience. In SaaS it is the single best predictor of whether a company will retain and grow their customer base, or see customers defect to a competitor." said Mr. Giurata. "The SaaS design principles in SaaS Entrepreneur are derived from our work on over 150 SaaS web and mobile apps in financial services, telecom, biotech, and mission critical systems. We are delighted to share them in this seminal book."
SaaS Entrepreneur is available for purchase directly on the Softletter website.
---------------------------------------------
ABOUT CATALYST RESOURCES
Catalyst specializes in the unique demands of scalable, modular and reusable application and user interface design for Software as a Service (SaaS), Biotech / Health Care, Financial Services, and Mission Critical Systems. Since 1994, Catalyst Resources has successfully delivered application and user experience design for more than 450 desktop, web and mobile software applications to leading global firms including ADP, American Express, Cisco, First Data, IPC, Roche, Salesforce.com, and ThermoFisher. With offices in Silicon Valley, New York, Vancouver, London and Milan, Catalyst Resources employs accomplished UI designers, information architects, developers and business professionals. More information about Catalyst Resources can be found at http://www.catalystresources.com.