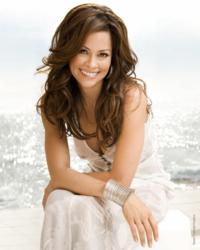 Demand for Brooke is at an all time high, and Catalyst's guidance will make it possible for Brooke to reach out to women who really want to have a peek into her world of fitness, fashion and family management
Santa Barbara, CA (PRWEB) August 24, 2011
Catalyst Creative Ventures announced today that it has signed "Dancing with the Stars" co-host and season seven winner Brooke Burke. Catalyst Creative Ventures, a brand management and investment company founded in 2011 by Charles Banks of Terroir Capital and former President and Co-founder of Creative Brands Group, G. Eric Kuskey, now represents TV spokeswoman Burke in a deal that includes development, management, and her interests with respect to branded products that may include apparel, accessories, jewelry, and home furnishings.
Burke, one of the most recognized personalities on TV with a twitter following of +1.7 million, is widely known for her commitment to family as co-founder of one of the leading mom websites modernmom.com and a mom in her own right with four children between the ages of three and eleven. She is also recognized as one of the most beautiful women in entertainment today as evidenced by her recent story for Redbook magazine donning a bikini for its cover.
"Brooke has become one of the most recognized personalities on television with a huge following of women who admire her accomplishments. But more importantly, they want to know what she is doing with 4 young kids and her very active family life. How does she is do it?" states Eric Kuskey, CEO of Catalyst Creative Ventures. "Brooke's platform of authority allows her to speak credibly to women about everything from how she decorates her home, what she is wearing, what she does to stay fit and focused, and how she stays organized and balances career with family."
The Catalyst team merges top tier celebrities like Heidi Klum and Boston Celtics power forward Kevin Garnett with a wealth of experience in the management of popular consumer brands, especially personality-based brands for licensing, endorsement and other strategic partnership agreements.
"We are very excited to have Catalyst Creative on board and guiding this next chapter in Brooke's dynamic career," said manager David Brady of BX2 Management Company. "Demand for Brooke is at an all time high, and Catalyst's guidance will make it possible for Brooke to reach out to women who really want to have a peek into her world of fitness, fashion and family management."
Catalyst Creative Ventures is a brand management, commercial endorsement and licensing agency based in Santa Barbara, CA. The company also makes strategic capital investments in a range of industries, including fashion and beauty. For more information, contact G. Eric Kuskey at: eric(at)catalystcv(dot)com.
# # #