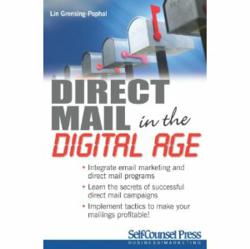 The future of direct marketing hinges on the ability to adapt and evolve with emerging channels…the customers are in control.
Rochester, NY (PRWEB) May 10, 2011
Three direct marketing and digital marketing professionals from Rochester-based Catalyst share their insight on the strategic use of direct mail in a new book by Lin Grensing-Pophal titled "Direct Mail in the Digital Age." Mike Osborn, managing director; Karen Menachof, chief client officer; and Ken Fitzgerald, executive creative director at Catalyst were prominently quoted in the new book (Self-Counsel Press, 2011).
In a chapter titled "The Future of Direct Mail," Osborn and Fitzgerald are quoted as saying:
"The future of direct marketing hinges on the ability to adapt and evolve with emerging channels…the customers are in control. A strong direct strategy will enhance all other marketing efforts because of segmentation, personalization, and having the ability to craft more relevant copy and offers to the customer."
Osborn goes on to add that the invaluable foundation of direct marketing is analytics. Strong analytics opens a world of possibilities, he says—for example, more effective contract strategies where conversations take place, not "lectures" or "brochure-ware."
Adds Fitzgerald, "The ability to collect information on a targeted group and mine for individual data allows for prosciutto-thin segmentation. In the future, we have to listen harder, not shout louder."
In a chapter titled "Beginnings and Benefits," Menachof says direct mail has always been the one channel where truly relevant information could be used by marketers to engage customers and prospects. It's the way to provide things that matter to them, she says, and create true value. "Data-driven insights have long been the key driver to success in this channel," Menachof says.
What's really changed now that the digital marketplace has become so prevalent? Menachof says the ability to further customize direct communications based on what marketers know about customers' cross-channel interactions is making direct mail more relevant than ever.
"As we get better at understanding the preferences of those we are marketing to…we may mail less but with exceptionally more impact," Menachof says. "Mail is not dead, but its success is increasingly dependent on the effective integration of all channels so that the individual's needs are understood and addressed in the most relevant, impactful manner possible."
"Direct Mail in the Digital Age" by Lin Grensing-Pophal is available from Amazon at:
http://www.amazon.com/Direct-Mail-Digital-Age-Grensing-Pophal/dp/1770400710
About the Author
Lin Grensing-Pophal, PCM, has written many business and employee management articles for general and trade publications, and is the author of several business and marketing books. She is accredited through the International Association of Business Communicators and the Society for Human Resource Management, and is a member of the American Society of Journalists and Authors.
About Catalyst
Catalyst (http://www.catalystinc.com) is a direct and digital marketing agency that helps clients acquire, retain and develop long-term relationships with their customers. We combine intellectual curiosity and inquisitiveness with hard-core analytics, deep customer insight and a measurement mindset to take the guesswork out of marketing decisions. We call it Science + Soul. Headquartered in Rochester, NY, our clients include AAA, Assurant Health, Eastman Kodak Company, GE Money, ITT, Oreck, and Valvoline, among others.
Follow us on:
Facebook:
http://www.facebook.com/scienceplussoul
Twitter:
http://twitter.com/SciencePlusSoul/
LinkedIn:
http://www.linkedin.com/company/26721
###