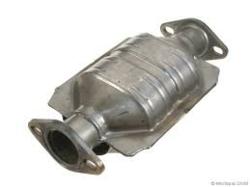 The addition and price reduction of the units now for sale at the Auto Pros company is expected to provide better resources for buyers in all parts of the country.
Battle Creek, Michigan (PRWEB) May 26, 2013
Exhaust system replacements can be costly for automobile owners. The types of parts that are available could raise or lower the replacement cost. The AutoProsUSA.com company is a seller of preowned parts and accessories for vehicles online. A new promotion by this company has resulted in catalytic converter replacement prices being reduced. These discounts are now applied to units for placement onto American or import vehicles. These complete systems can be purchased through the company ordering system and current prices can be found online at http://autoprosusa.com/used-catalytic-converters-for-sale.
EPA guidelines require automakers to meet minimums set forth for the reduction of pollution. The development of the catalytic converter has helped the auto industry to meet the guidelines required. Because the converter system remains an integral parts of automotive production, these parts are generally created by automakers or outsourced to other companies.
The type of converter needed for a vehicle replacement could complicate the research process for vehicle owners. Not all auto parts stores in local areas stock all units for vehicles. The addition and price reduction of the units now for sale at the Auto Pros company is expected to provide better resources for buyers in all parts of the country.
A new ordering system was designed and put in place this year to expedite orders. The toll-free company number has been updated and is now a permanent fixture for buyers to use. This number provides a direct link between buyers and company staff to help with parts research and information gathering.
The professionals at the AutoProsUSA.com company are able to quote pricing and research any in stock part through the new number at 1-888-230-1731. The use of this ordering system and the online method of quote delivery initiated this year has helped provide a trusted resource for parts buyers.
Aside from the inventory additions and newly published discounts, new methods interacting with parts buyers are now installed on the company website. A series of videos are now available including a new YouTube channel launched at http://www.youtube.com/watch?v=RsuTtVrnv6k. These videos are now being made to help inform buyers before a purchase is made. These videos include helpful information about how to search and order the current parts in stock.
Videos for the majority of the inventory carried are now in development and are expected to be launched online in the future. The video channel and company website remain two updated ways that buyers can now use to locate used auto parts online.
About AutoProsUSA.com
The AutoProsUSA.com company is a discount supplier of used automotive parts and accessories for American made vehicles and those imported for sale. This company employs a trained and talented staff of automotive professionals who provide online and offline assistance to buyers in the U.S. The company policies that have been put in place at launch have created easier purchase experiences for buyers. The AutoProsUSA.com company maintains its own inventory of parts and matches buyers with parts suppliers through its database system. The consistent updates and agreements with suppliers in place have helped this company expand its volume of parts sales this year.