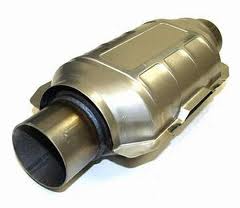 A reduced price structure has been selected to assist buyers with purchasing a complete system for replacement
Parkersburg, WV (PRWEB) June 18, 2013
Current EPA regulations require all motor vehicles to provide authorized ways to expel gasses from combustion engines. The exhaust systems produced by American and foreign automakers conform to these requirements to contribute to air quality. The AutoProsUSA.com company is now selling replacement catalytic converter inventory for American and import vehicles online at http://autoprosusa.com/used-catalytic-converters-for-sale.
Inclusion of these parts is a portion of a larger undercarriage components upgrade that was started earlier this year. These replacements can be purchased by vehicle owners, mechanics or service centers for reduced prices.
The carbon monoxide that is generated from the use of combustion engines is one contribution to reduced air qualify in the global environment. The standards now in place by automakers to control the amount of toxins placed into the air have revolutionized the way that exhaust systems work.
Because foreign and domestic parts can include different amounts of technology, automobile owners replacing exhaust parts and accessories are encouraged by automakers to find OEM replacements. The preowned systems now for sale to buyers on the Auto Pros website are genuine automotive replacements with light wear and tear.
"Parts buyers can have difficulty buying online just by viewing a photograph," a representative from the AutoProsUSA.com added. It is now common for some preowned automotive sellers to use descriptions of parts or accessories as well as photographs provided by distributors. This information may not accurately represent the parts for sale.
"Our quote system online provides direct quotes and details from the actual companies fulfilling each parts order," the source included. This two-step process is designed to offer evaluated parts shipped directly from secondary market sellers to assure all data is as described when parts orders are placed online.
The catalytic converter inventory now listed for online sale and reduced in total price is in addition to complete exhaust systems added last month. The systems can be installed on most vehicles produced between 1980 and the present day. A reduced price structure has been selected to assist buyers with purchasing a complete system for replacement at http://autoprosusa.com/used-exhaust-systems. The quotation system customers now use to provide warranty and pricing information can be used to locate the exhaust and converter auto parts that are now accessed online.
Companies supplying auto parts to trade companies in the U.S. can make contact with the Auto Pros USA company and make a formal request to list parts for sale online. The increased amount of partnerships with secondary suppliers has opened up more opportunities for distribution of auto parts through the company database. Requests can be forwarded to:
Auto Pros USA
1270 Crabb River Rd.
‪Richmond, TX 77469
(888) 230-1731
(713) 560-7017
About AutoProsUSA.com
The AutoProsUSA.com provides online parts buyers with immediate price discounts for complete inventory in stock. Supply companies distributing parts nationally are used to build up the amount of inventory listed online for buyers. This online resource extends the current or classic parts types to more parts of the U.S. The AutoProsUSA.com inventory includes car, truck and sport utility vehicle parts and accessories that are discounted below standard retail pricing. The price tools on the company website and support provided through phone contact are additional resources now available to all buyers of auto parts.