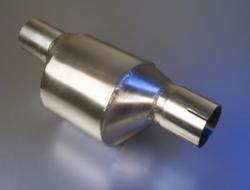 CHICHESTER, WEST SUSSEX (PRWEB UK) 22 July 2012
Blackthorn Environmental specialises in the design and supply of products for the reduction of toxic exhaust emissions, such as diesel particulate filters and catalytic converters. As people who drive forklift trucks in confined spaces know all too well, the exhaust fumes can be a health hazard, especially carbon monoxide, a colourless, odourless gas which causes tiredness, headaches and nausea. Long term exposure to high levels of carbon monoxide is bad for the health of forklift truck drivers and also makes them more likely to be involved in accidents.
Carbon monoxide is present in the exhaust gas of all internal combustion engines running on fossil fuels, and engines also emit some other toxic gases, principally hydrocarbons (unburnt fuel) and oxides of nitrogen (Nox). Hydrocarbons are responsible for the unpleasant smell of exhaust gas, whilst oxides of nitrogen cause breathing difficulties and sore eyes. There are also long term consequences of exposure to these pollutants.
By fitting a catalytic converter these toxic gases can be reduced considerably, by more than 90% in most cases. Catalytic converters are often described by how many categories of toxic gases they can reduce. The most common types of catalytic converter are as follows:
TWO-WAY CATALYTIC CONVERTERS.
These reduce carbon monoxide and hydrocarbons. They can be fitted to engines running on diesel or Liquefied petroleum gas (LPG)
THREE-WAY CATALYTIC CONVERTERS.
These reduce carbon monoxide, hydrocarbons and oxides of nitrogen. They can only be fitted to engines running on lpg which have a suitable induction system to regulate the air-fuel ratio going into the engine. An induction system like this is referred to as 'closed-loop' and has electronic controls including an oxygen sensor.
Of course many forklift trucks are specified with a catalytic converter when they are purchased new, however often it is necessary to upgrade or repair an existing forklift and this is where Blackthorn's 'in-line' catalytic converters come in useful.
THE BLACKTHORN SOLUTION
Blackthorn's range of in-line catalytic converters are designed to be easy to fit to a wide variety of forklift trucks which are already in use. In most cases, the reason for fitment will be to upgrade a forklift which was not fitted with a catalytic converter when new, however an in-line catalytic converter can also be a useful solution where the original equipment catalytic converter has failed and a direct replacement is either impossible to obtain or prohibitively expensive.
The fitment procedure is to identify a straight length of exhaust tube as near to the exhaust manifold as possible, then cut part of this away. The in-line catalytic converter is then inserted over the two cut ends and clamped tight. Because space is always at a premium in the engine bay of a forklift truck, Blackthorn make their in-line catalytic converters with the body offset in relation to the inlet and outlet tubes. This enables it to be rotated to make best use of the space available.
Blackthorn offers a comprehensive range of twelve in-line catalytic converters for the forklift market, covering diesel engines up to 235 kW and lpg engines up to 116 kW. Each has a metal core to ensure durability in harsh conditions, and the casing is made from stainless steel to resist corrosion. No maintenance is required and the life expectancy is 5000 hours.
ABOUT BLACKTHORN ENVIRONMENTAL
Blackthorn Environmental Limited is one of the leading specialists in reducing toxic exhaust emissions from diesel and gas engines. Formed in 1996, Blackthorn designs and supplies catalytic converters and diesel particulate filters for the materials handling, power generation, mining & tunnelling, pumping & compression and construction & demolition industries. They have a comprehensive knowledge and understanding of the exhaust purification sector, and work with clients of all sizes.
For more information, contact Julian Hammond on +44 (0) 870 0101800 or via email at info(at)blackthorn(dot)net
Visit our website: http://www.blackthorn.net
Follow us on Twitter https://twitter.com/BlackthornTech