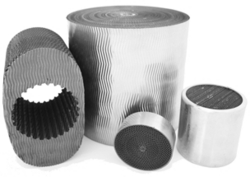 It had been said that it was impossible to cost-effectively build monoliths for small engines and huge industrial engines. But ACAT's innovative catalytic converter technology shows that it can be done. What we're doing now is game-changing.
Los Angeles, CA (PRWEB) October 5, 2010
Catalytic converters, the ubiquitous devices used in automobiles since 1975 to convert harmful exhaust emissions from incomplete engine combustion into more environmentally friendly gases, are now federally and internationally mandated for all engines. With breakthrough technology from ACAT Global LLC, a leader in clean air technology for emissions control, a commercially viable solution is now available.
'Game-Changing' Technology
ACAT Global has introduced a markedly advanced line of catalytic converter substrate cores made of stainless steel alloy foil. The products are lower in cost, one-third smaller in size and as much as 20 percent more efficient than alternative technologies in mitigating regulated emissions. The substrate core is the heart of the catalytic converter, supporting the washcoat and catalytic agents that convert hydrocarbons, carbon monoxide, nitrogen oxides and other toxic pollutants in engine exhaust into water vapor, carbon dioxide and nitrogen gas.
"ACAT Global has built an enviable name for itself by making the most efficient catalytic converter monoliths on the market," said Leisa Cuddy, ACAT director of communications. "ACAT's innovative catalytic converter technology is already at work in vehicles worldwide, dramatically cutting emissions and contributing to cleaner air. But what we're doing now is game-changing. It had been said that it was impossible to cost-effectively build monoliths for small engines and huge industrial engines. Now we're showing that it can be done."
ACAT Global also offers catalytic conversion solutions for fuel cell power sources that are one-third smaller than existing products. The company's proprietary fuel cell applications incorporate hollow-core design and nickel-free construction for improved reformer efficiency.
ACAT Global offers a number of important competitive technical advantages:

Non-Linear Construction Pattern - As opposed to straight channel constructions, ACAT's substrates have a non-linear construction pattern, thereby avoiding the possibility of "layer nesting" and the need for an intermediate plain foil layer. This design provides for a higher surface area and results in a smaller substrate.
Optimized Reaction Conditions - ACAT's proprietary substrates ensure that gases entering any open channel move constantly to remix with other gases at interstitial locations where the channels intercept. This happens across the entire flow zone between any two foils. The resulting constant mixing and remixing optimizes reaction conditions for catalytic conversion.
Infinite Packaging Variety - ACAT's unique technology allows it to make monoliths in any shape and size.
ACAT Global's converter substrate technology was originally developed by Delphi Corp. and its former parent General Motors. GM/Delphi invested an estimated $475-$500 million during an 18-year period to bring the technology to the point of full commercialization. As such, components produced via the manufacturing processes acquired by ACAT have passed GM's durability and efficiency protocols.
ACAT Global technology allows for the design of substrates in a wider variety of shapes and sizes than previously available in the marketplace. Utilizing patented technology and relying on unique and proprietary construction and assembly techniques, ACAT engineers have created compact, lightweight and durable converter substrate cores for a variety of engine applications.
Some of these include:

Diesel truck retrofit solutions
Commercial diesel-powered engine/electrical generator sets ("gen sets")
Fuel cells (electrochemical devices that convert source fuel into an electric current)
Multiple megawatt engines that supply energy to coal-fired power plants (which provide 49 percent of consumed electricity in the U.S.)
Stationary industrial and mining equipment
Auxiliary power unit (APU)/refrigerated container engines
Trucks, buses, trains, airplanes, forklifts, etc.
Off-road industrial vehicles and equipment
Medium and heavy-duty trucks
Automotive aftermarket
Small engines used in motorcycles, scooters, ATVs, snowmobiles and watercraft
Lawn and garden equipment (e.g., lawn mowers, weed-wackers, etc.)
About ACAT Global
ACAT Global LLC has a deep commitment to research and development, and is exploring partnership opportunities with various progressive companies to bring about industry-changing solutions to emissions challenges. ACAT's patented technology capitalizes on aggressive emissions policies worldwide and in North America as set by both the EPA and the California Air Resources Board (CARB).
Contact Leisa Cuddy, ACAT Global Director of Communications, at Ph: 949-235-7576; Email: leisacuddy(at)acatglobal(dot)com. Web: http://www.acatglobal.com
Media Contact: Ned Madden
Rodheim Marketing Group
949/547-0143
ned(at)rodheim-marketing(dot)com
###