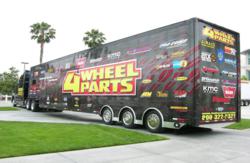 Expanding to online makes it a National Retail Event and users can take advantage of Truck & Jeep Fest discount pricing just by logging on.
Compton, CA (PRWEB) February 14, 2013
Leading distributor of Truck, Jeep, and SUV aftermarket parts 4 Wheel Parts announces nationwide online sales in conjunction with its local Truck & Jeep Fests throughout this year. The Truck & Jeep Fest road tour has events happening across the country, giving off-road enthusiasts direct access to in-store sales with promotional discounts. This year's inaugural fest happens February 23-24 in San Mateo, Ca. with more events scheduled in Honolulu, Hawaii; Puyallup, Wash.; Dallas, Texas; and Ontario, Calif., Denver, Colo., Atlanta, Ga., and Orlando, Fla.
The traveling Truck & Jeep Fest shows will extend to customers who don't attend the events onsite. Taking the hugely popular event online makes it a National Retail Event where users can take advantage of Truck & Jeep Fest discount pricing just by logging on. Typically, preferred pricing stretches over the course of an entire weekend and lasts for four days. These sales will be promoted nationally in magazines, mailings and emails and on the Web.
4 Wheel Parts Online Sales will feature deals on:

Interior and Exterior
Wheel and Tire
Recovery Accessories
Lighting Accessories
Towing Hardware
Camping Equipment
Truck and Jeep expos are free weekend events that give attendees a glimpse of custom modified vehicles and access to industry experts. The events feature onsite giveaways and demonstrations showcasing next generation products along with full-installation services. In addition to providing a chance to interact with the off-road community, attendees can take advantage of factory-direct pricing on items like catalytic converters from top manufacturers.
Additionally, 4 Wheel Parts will have national sale days online throughout the year kicked off by a "Madness in March" sale. During these weekend events, customers receive discounts in store, online, and over the phone. Interspersed throughout the calendar year, the seasonal sales are popular with off-road parts and accessories consumers.
About 4 Wheel Parts: 4 Wheel Parts is a retailer and service provider specializing in aftermarket parts for off-road and 4x4 enthusiasts. With 59 locations nationwide, 4 Wheel Parts supplements its retail centers with a robust mail-order and e-commerce distribution network to serve customers around the country and around the world. 4 Wheel Parts carries a large inventory of truck and Jeep parts, including Smittybilt gear, tonneau covers, tires, winches and more.