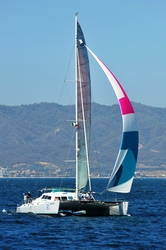 A Puerto Vallarta catamaran charter is the perfect sailing vacation. Banderas bay and the Costa Alegre are amazing places to explore!
San Diego, CA (PRWEB) July 7, 2010
Humu Humu is a 70 foot charter catamaran licensed to operate in Mexico. She is a beautiful and very stable catamaran perfect for coastal cruising. She carries three queen-sized guest staterooms with room for six passengers. http://www.CatamaranChartersVallarta.com
Humu Humu's multi-day crewed charters are customized to fit your cruising desires. Puerto Vallarta is at the mid-point of Banderas Bay, the fourth largest bay in the world. There is so much to see and do right in the bay, that you can charter for six nights and never leave the bay. Snorkel in two different marine preserves, anchor in a dozen secluded spots, go ashore for dinner and a show, see the nightlife in Puerto Vallarta, or retreat to a quiet cove where to stars touch the water... its all up to you.
If you have nine nights or more, explore Banderas Bay and then head south along the Costa Alegre to Careyes - home of the Stars, Bahia Tenacatita which is filled with places to explore and Barra de Navidad with its fun seaside village. This pristine coastline's sparkling blue and turquiose waters, jungle crusies, fresh lobster and secluded beaches are the experience of a lifetime!
A sailing vacation is about relaxing and playing and this catamaran charter is a unique way to enjoy places and sights you might never see otherwise. Dolphins and whales are our regular companions under sail. Puerto Vallarta's abundance of marine life, activity and beauty provides a great base of operations for a memorable coastal cruise. With a group of six people, the cost is less than $200 a day, per person with all meals and beverages onboard included. Full pricing information is shown on the rates page.
Now is a great time to book your vacation, while choice dates are still available.
# # #